Out and About
Glassybaby Seconds Sale
Now's your chance to snap up some of these sweet glass votives by Glassybaby at almost half their usual price at a sale this coming Saturday, June 18, in Seattle.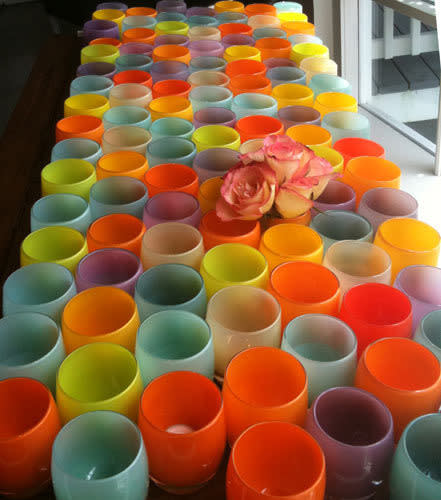 Perhaps you already have a small collection of Glassybaby's colorful votives, or perhaps you've always had a hankering for these glowing glass goodies, but you were held short by the prices. Either way, the store is having a sample sale on Saturday, June 18, at its location at 3406 East Union Street in Seattle.
Starting at 10am, the doors of the Glassybaby studio will open and people can pick from thousands of votives with slight imperfections for such $26 apiece (instead of their usual $40 price tag). With a vast array of colors, from the azure blue of Cabo to the pale pink of First Kiss to the elegant brown of Cognac, the hues are good to match any decor—and they're handmade in Seattle by a team of seventy glassblowers.
Lee Rhodes started Seattle-based Glassybaby as a way of combatting cancer; the dancing light from the glowing glass forms made her feel better and helped her moods lift in the middle of a terrible battle with the disease. She opened her first store in 2003, and since then has given over half a million dollars as part of sales proceeds to helping others with cancer fight the disease. Some people love the helping mission of this company, some people just like the beautiful colors and forms.
So if you're headed up north on I-5 for a quick jaunt anyway, or you need an excuse for a road trip (or train ride), we'd recommend a stop at this sale. The votives are pretty, and at this price, the perfect gift for yourself and a few others.