Openings
New Design Sale Site
Are you an avid sale shopper? Or perhaps you just like to score a great deal? A new design flash-sale site called Fab just launched today, bringing high-design goods into lower price points.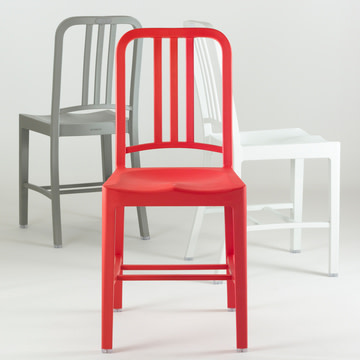 There's something exciting about sales that gets my heart rate up and blood pumping. I hate to say it, but if there's only one of something left on the store table, and it's marked down to obscenely low prices, then somehow the object itself takes on more of an allure than if it was, say, full-priced and the table was full of them. Now, clever people who understand that sale-shopping adrenaline rush have created a design website called Fab that offers well-designed products at prices up to 70% off retail.
Over 175 designers are pairing with the website to offer their products at discount. From Public bicycles to choices from the Museum of Arts & Design in New York to objects by the legendary Eva Zeisel and beautiful pieces by Iittala, it's a well-curated selection from both well-known and up and coming designers.
There are also some amazing special products, from signed Milton Glaser prints (the graphic designer who did the "I heart NY" logo) to the famed Emeco 111 Navy Chairs, offered here at $175 (instead of $245) and in a special edition made of recycled Coke bottles.
What's the catch? Like any sample sale site, offerings are limited and the sale only lasts a few days. Sometimes things sell out in a matter of minutes; sometimes, they're around till the end of the sale. So when you're debating dropping a couple hundred dollars on a light, it's a lot of money to spend on an impulse purchase. But if you've been eyeing something in the stores for a while now, and you see it come up on Fab.com for a much better price, then it's definitely a good deal.
If you're interested, you have to "apply" for a membership. Basically, you enter your email and a password, and they sign you up. It's free, though it can take a few days to be approved, and you can check in any time you have a hankering for cheap(er) modern design. Sometimes, it's just fun to window shop. Don't expect Goodwill-style bargains; this is still high design. But it's high design at a discount, and sometimes, that's exactly what's needed.