Desirables
Sweet Modern Macramé
Forget your grandmother's macramé. Local textile artist Sally England's work is fresh, fun, and a thoroughly modern take on a traditional craft.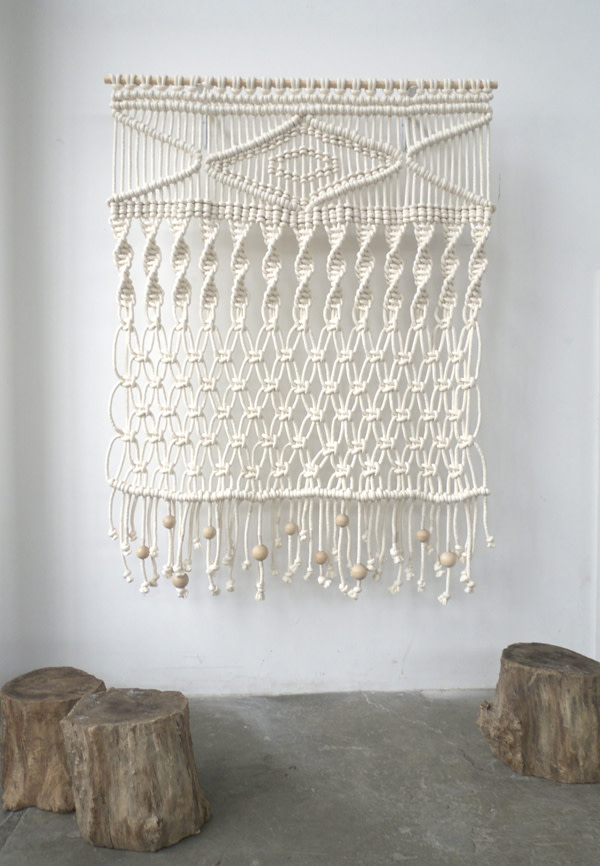 If you remember the 1970s, then you probably have flashbacks to plants hanging in holders and jewelry dotted with peace sign beads—all made of macramé. Now, Sally England has brought the traditional craft into current day styles, with simple, lovely macramé wall hangings and room dividers and yes, she'll even introduce plant holders next month.
There's nothing new about macramé; in fact, the Victorian era was crazy about this craft, which basically involves creating textiles by knotting materials (rather than, say, knitting or crocheting). It then became a full-fledged trend in the late 1960s and 1970s. "I just love the fact that back in the day the knotting craze was not just for women, but that men, young boys and girls, teenagers, and the elderly were doing it too," says England. "People were using their hands to make everything from rad macramé vests and belts, to whole macramé rooms and hanging pods."
England decided to remake the craft in her own way. Using rope, a material which comes in all kinds of colors, fibers, and widths, she hand-knots all her pieces through techniques learned by poring over old macramé books she found at thrift stores and on Amazon. The result is incredibly tactile pieces that harken back to the 1970s but with geometric loops, subtle colors, and intricate designs that place them firmly in today's aesthetic.
So how to use these hangings in a home? "Knotted rope can add some really interesting texture to a space, especially on a large scale," says England. "Because I generally work with looser knot structures, my room dividers would be great in an open loft-like environment where flow and delineation of space is needed but complete separation is not." I would suggest even more uses for her work, from hanging behind a bed instead of a head board to a massive art work on a living room wall to a window covering where there's no need for complete privacy.
Available through Relish; England also accepts custom designs and commissions.