Desirables
All Hail the Ancient Art of Mosaic
Hail Mary is a shop and mosaic studio filled with quirky beauty.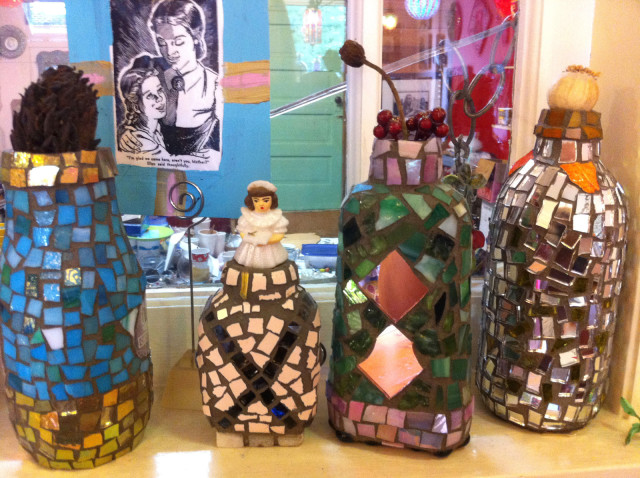 The shop is small but so intriguing, it's hard to pass by without going inside. Sparkling glass-, mirror- and tile-covered bottles and jars line the old wooden window sill of the storefront. A sheer curtain flutters. Colorful mosaic heart pendants dangle delicately over tiny owl figurines that seem to wink hello, come on in.
When you do walk into Hail Mary, you may be met by a very large sweet dog, and by artist and shop owner Mary Tapogna. She does much of her work in the studio in back, sometimes holding classes there as well. And while she sells her work on her website on Etsy, and takes on private commissions (many have been for the McMenamin's restaurants) the shop is her main display. It is captivating: a quirky and graceful array of dazzling mosaic goblets, bowls, soda bottles, hanging lamps, globes, picture frames and crosses…even a frying pan.
With her mosaics, Tapogna makes magic of the discarded bits of everyday items that the rest of us would toss in the trash. For instance, broken plates and cups, like the pieces I sweep up in my kitchen periodically, one of my foibles being a propensity to break my favorite china and glassware (not on purpose). I should drop them off at Hail Mary.
Tapogna says that in fact, she has received offerings of broken ceramic and glass left anonymously outside her store's front door. Her mosaics also include unexpected well-used objects like bottle caps, Yankees pins, smiley faces, plastic alphabet magnets, and bits of soda can labels, always used with a deft and whimsical touch.
Many of these whimsical pieces have a Catholic theme, as befits the store name. Mary Tapogna hails, as it turns out, from an Italian-Catholic family in Ohio. Her use of religious imagery seems light-hearted and gentle, malleable to the beliefs of the viewer. The crucifixes – dozens of them, all unique – cover much of a wall near the front door. As some of the smaller items she sells, they range in price from about $20 to $98.
The above-mentioned frying pan also carries a Catholic theme: the pan, handle and all, is beautifully covered in tiny bits of tile and glass, surrounding a blue-clad figurine of Mary poised in the center. This item is perhaps one of the less functional of Tapogna's pieces; bowls, vases, jars and tables appear to be fully able to perform their original functions even after being transformed by the artist's eye and hand.
The store is located at one of Portland's better-known restaurant meccas, the crossroads of NE Killingsworth and 30th. That corner boasts Micah Camden's DOC and Yakuza and Naomi Pomeroy's Beast, as well as the not so chef-centric Autentica, Cup and Saucer, Extracto Coffee House, and the newish French-inspired spot, Cocotte. All told, strolling around that corner of town is like happening upon an It's-a-Small-World selection of fine food just a few blocks north of the Alberta Arts District – another chance to discover the variety available in plain old Puddletown.
Hail Mary
2928 NE Killingsworth Street
Portland, OR 97211
(503) 281-6096