Mudroom
Go West!
Will humble Hillsboro define Portland's future?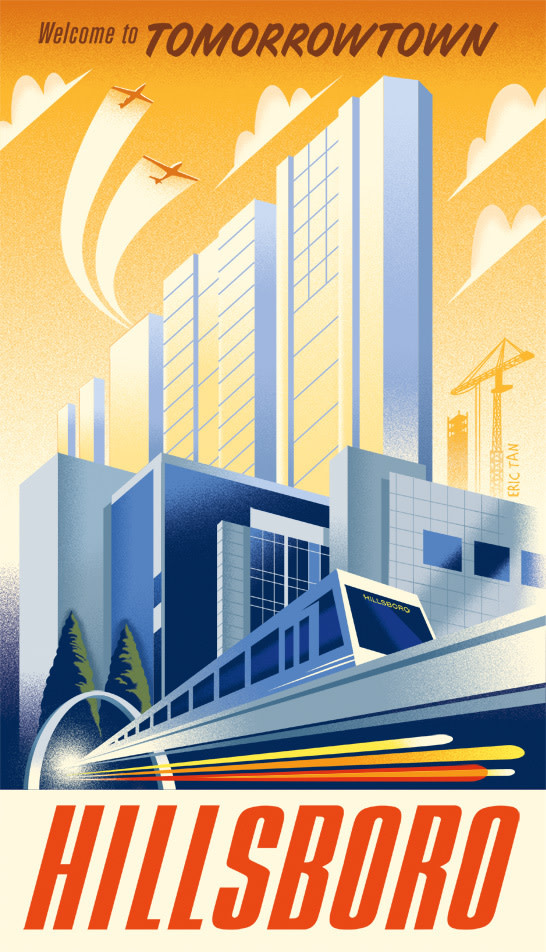 PORTLANDERS BLASTING WEST-WARD past Hillsboro on Highway 26 fantasize about the ocean, not the economy. But even as the coast beckons, this burb hides places as vital to our world as England's mills were to the Industrial Revolution.
Intel, the global computer-chip giant, does its most important research in Hillsboro. "Intel's facilities here amount to one of the biggest capital investments in the Western world," notes Ethan Seltzer, a Portland State University urban planning professor. The company's latest endeavor, a $3 billion R&D factory, will employ some 6,000 construction workers and promises to add up to 1,000 permanent jobs to Intel's current local corps of 15,600.
The project symbolizes Hillsboro's remarkable rise: the old farm town at the Blue Line's end has become the metro area's unlikely economic star. For Portland, Hillsboro's ascent means the familiar model of an imperious core city ringed by boring suburbs is finished. The Rose City may have cornered the market for vegan bakeries, but the "Hub City" is forging Oregon's future industries—and landscape.
Forty years ago, Hillsboro sheltered just 15,000 agriculture-dependent souls. With more than 90,000 residents according to the 2010 census, it's now Oregon's fifth-largest city, and could hit the quarter-million mark by 2030. And with 70,000 jobs, this exurb has, in fact, become a hub for commuters from both outlying areas and Portland itself.
Today, Hillsboro's main street—called, of course, Main Street—can feel like a bastion of cliché Americana. The old pharmacy sells great milkshakes; folks strolling the tidy sidewalks holler greetings to each other. A subtle shift in focus, however, reveals more modernist ambitions: a slickly renovated fine arts center; an old movie house remade into an elegant pub/restaurant; a gleaming, LEED-certified government center; a new Pacific University branch campus that will bring 1,100 students downtown. Besides Intel, the biotech firm Genentech and panel-manufacturer Solarworld help drive Hillsboro's move from ag to tech. (Not that ag is dead: Hillsboro's rural hinterlands hold a fast-growing "sector" of sustainable small farms.)
The resulting swagger is palpable. "I've been blown away," says John Southgate, a veteran of Portland projects such as the Pearl District's revitalization and Interstate MAX who became Hillsboro's city economic development director three years ago. "Hillsboro is not a suburb. We have our own identity as a city. We're big enough to do significant things, but small enough that the major decision-makers fit in a room."
The city's crisp planning charts tell a tale of urban aspirations, none bolder than a proposed high-density neighborhood called AmberGlen. Envisioned as a bristle of gleaming high-rise towers around a central park linked to the world by MAX and streetcar, AmberGlen could be home to 15,000 people by 2030—not exactly a Leave It to Beaver version of suburban life. "We're moving beyond traditional development," says city planning official Alwin Turiel. "This will push the boundaries."
That ambition suggests a metropolis that's becoming a constellation of different but equally urban places—an evolution Hillsboro may need as much as want. "As an industry, high tech demands density," says Sheila Martin of Portland State's Institute of Metropolitan Studies. "Intel and others need places that encourage collaboration."
Portland will always own the region's ports and, presumably, most of the citified fun. (Intel spokesman Bill Mackenzie notes that the company's younger employees often prefer to live in Portland.) Meanwhile, with its Latino soccer leagues, one of Oregon's three Hindu temples, and one of four state House districts that's more than 10 percent Asian, Hillsboro makes Portland itself more urbane. And with the average Intel salary clocking in at $118,000 a year, the central city's restaurants, nightclubs, boutiques, and cultural institutions should certainly take a moment to bow to the west. "You hear the slogan 'keep Portland weird,'" Southgate says. "I'd argue that Hillsboro helps keep Portland weird."
Dynamism does bring discontent. The city's recent push to designate prime farmland for industry enraged many smart-growth advocates, for instance. No one said that being the lab for Oregon's experiment—moving from timber and farming to high tech while balancing urban and rural life—would be easy. But growing pains, in their way, just signify a vitality Greater Portland desperately needs.
"We honor our traditions here, but move forward with a lot of optimism," Turiel says. "We're certainly very entrepreneurial."