Out and About
Salvage Secrets Q & A at Rejuvenation
Salvage maven Joanne Palmisano has a new book all about making discards into design treasures, and she wants to share.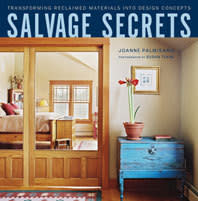 Even in recycling-friendly Portland, where the mayor has been known to model in the Junk to Funk fashion show, we could probably all stand to learn more about beautiful and creative ways to turn old into new. Rejuvenation is hosting a book party and DIY-get-together on just that subject.
Sunday July 31st, from noon to 2 p.m., Joanne Palmisano will be on hand with advance copies of her new book, Salvage Secrets: Transforming Reclaimed Materials into Design Concepts. The Vermont designer, author, and Martha Stewart of salvage will do a Q & A with Portland's DIY-ers (that means you!) to share tips about how to choose, install, and enjoy living with the right salvage pieces for your home.
She'll have some basic salvage and recycled pieces on hand and demonstrate creative re-uses that we probably haven't thought of yet, let alone done.
Not that some of us Portlanders haven't been busy pushing the envelope of responsibly and sustainably using discards without sacrificing beautiful design. Local designer Anne De Wolf of Arciform has one of her projects in Palmisano's book, and she'll be there along with Rejuvenation's staff of salvage specialists to discuss their experiences using reclaimed materials in home remodeling, design and decorating.
Salvage Secrets is billed as both a practical guide and visual tour of the wide possibilities for using salvaged materials in residential architecture. We certainly see this happening in Oregon, but it will be interesting to hear a Vermonter's take on it. Salvaged wood becomes floors or doors, old stones are worked into a new fireplace, or vintage wine glasses and saved-from-the-dump light fixtures are incorporated into innovative interior design. The possibilities are endless, and that's part of the fun.
Event Details:
• Where: Rejuvenation 1100 SE Grand Ave. Portland, OR 97214
• When: July 31st, 12:00-2:00
• Details and RSVP or [email protected]