Under $10
Somewhere Over the Rainbow(ls)
These colorful striped wooden bowls will make you stop in your tracks.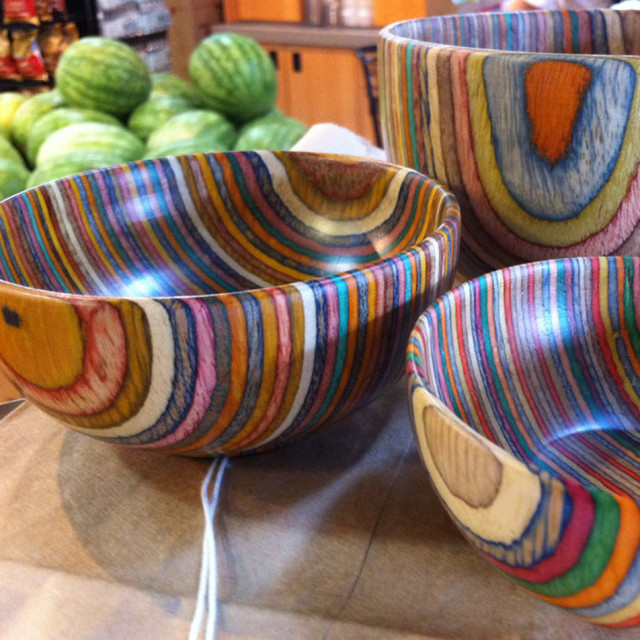 Rushing through Zupan's fruit and vegetable section recently, I had to stop. Abruptly. Not because of a particularly fetching tomato, or because I'd run into an old friend. No, it was the stacks of bowls. Perched between the onions and yams, they looked like some strange new fruit, some crazy half-sphere multi-colored watermelons.
Turns out the bowls were Norpro Rainbow Wooden Bowls. They're made of pieces of wood hand-dyed different bright colors – yellow, blue, green, and red – then laminated into layers and hand turned. The nesting bowls – they come in four sizes – are both visually and tactilely appealing, with a kind of smooth, softly shining ripeness that makes you want to coddle them.
They're made for dry, not wet ingredients, so they'd be perfect for salt or pepper, dried fruits, nuts or candies, depending on the size. Or just leave them empty, and let them add a punch of color to a neutral room.
Norpro is an Everett, WA company that also turns the rainbow laminated wood into wine stoppers, egg cups, paper towel holders, and scoops and spoons good for coffee, flour or sugar. The items are all eco-friendly and non-toxic. The small bowls, scoops and spoons are between $6 and $10.
Find the bowls at Zupan's multiple locations in Portland, and online at Norpro or other purveyors of kitchen products.