Desirables
Summer Nights, Summer Lights
We've slogged through spring, and the 4th of July is behind us. Now summer weather can officially start – and with it, outdoor living.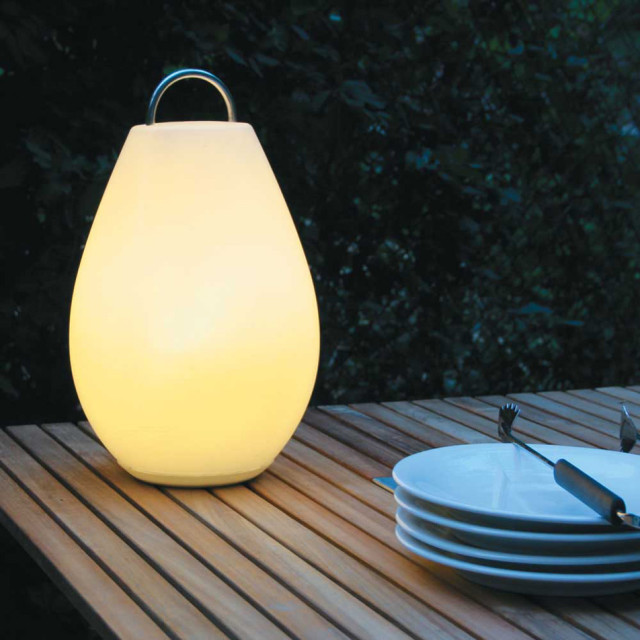 We know that in Portland, summer doesn't really begin until after Independence Day (also known on my street as the Long Night of Loud Noises). So now that July is settling in, we finally have half a chance of actual warm weather.
While the days are lusciously long, my rational side acknowledges that Summer Solstice is also behind us on Mother Nature's cruel calendar. We can counteract the shorter days, however, with outdoor lighting and lanterns that stretch the enjoyment of whatever outdoor space we have. Here are a few we like especially.
Design Within Reach has a couple of nice choices:
• The Luau (pictured) is a portable table or floor lamp. It's cordless, and the elegant handle also dims the brightness, so you can adjust it depending on how much past 10 p.m. it is (or how romantic you want the atmosphere to be). (Luau LED lamp by Oxo).
• A larger scale option is the O-Moon Indoor/Outdoor Lamp (DWR exclusive), which stands upwards of seven feet. The soft but strong light from the opaque 22" polyethylene sphere is positively lunar; squint and you can imagine the full moon comes more than once a month.
At the other end of the spectrum (sorry, I couldn't help it) are strands of sparkly solar-powered rope lights. Nature Hills Nursery sells a 23-foot strand (50 LED lights) with rechargeable batteries. They would look great winding between clay pots on a deck railing or weaving through rafters of a vine-covered pergola.
Design Within Reach has two local stores: in the Pearl District, at 1200 Northwest Everett Street, Portland – (503) 220-0200; and at Bridgeport Village, 7475 Southwest Bridgeport Road, Portland – (503) 684-2048