Desirables
Swept Away by Sassafras and Broomcorn
Rarely does a broom inspire such admiration of its quality, craft and beauty.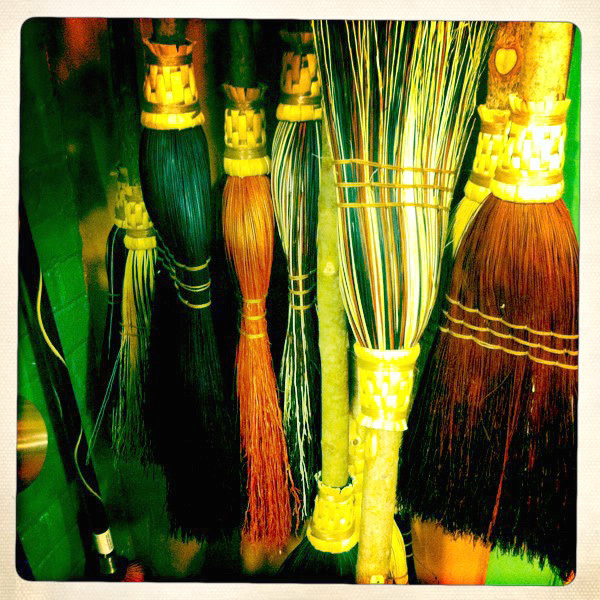 It's so pretty, so simple and solid in look and feel. The handle is wood, gnarly and a bit bent but still straight enough; a little rough yet comfortable to hold; just the right length. The sweepy part (is there a name for the tassely fibery strands of a broom?) looks so natural, like a fresh but clean bundle just gathered in the fields.
No, I am not someone whose car sports a bumper sticker declaring, "My other car is a broom." Nor am I a Harry Potter Quiddich fanatic. If I were, these brooms from the Scheumack Broom Co. in Eugene, OR would clearly be the way to get around. But no matter: I want one of these brooms.
Mirador, the "community store" in Southeast Portland "for natural kitchen and home" (they do live up to their name, but that's another column) carries the hand-carved brooms in adult and children's sizes ($36 and $24). I know, most kids are dying for a broom of their own. But really, the family that sweeps together keeps together, right?
The brooms are made in Eugene, but the handles hail from the Ozark Mountains; they are hardwood, usually sassafras. The wood is kiln-dried, then sewn to the "broomcorn," as it turns out to be called. Broomcorn is not corn but sorghum, the traditional grain seedhead used to sweep for centuries. Scheumack's broomcorn is highest quality, fine-fiber hand-dyed in a choice of four seasonal colors: black for winter, rust for spring, natural for summer, and a mixture for fall.
Scheumack's brooms bring to mind the rituals of home and hearth, an appreciation for food and shelter, and the beauty of everyday activities. I think I'll hang mine on the wall and contemplate cleaning!
Mirador
2106 SE Division
Portland, OR
503-231-5175