Out and About
Portland's Architecture + Design Month Starts September 29
A whole month to indulge in design-oriented exhibits, tours, lectures and parties.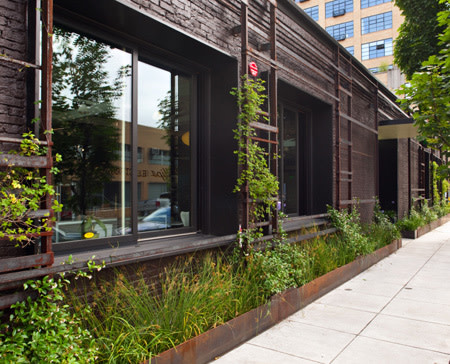 As if there isn't already enough packed into our calendars this fall, here comes the third annual Portland Architecture + Design Festival. Running four full weeks (and I do mean full) from Thursday September 29 through October 27, it's a celebration of the design community – practitioners and patrons of architecture, homebuyers and builders alike, and everyone in between.
Nobody's life is unaffected by design, yet most of us don't think a lot about it (with the possible exception of readers of this column?). And yet, not thinking about design doesn't mean not appreciating it; appreciation can be, and usually is, subconscious. Which is not a bad thing – we don't all need to be experts in everything. I don't want to design the best bike, but I sure am glad someone else does.
Architecture + Design month is a chance to broaden our horizons and see more of what those who are obsessively driven to design have been doing recently. There's a lot to see. The September 29 festival kick-off party doubles as the opening for an interactive exhibition marking the centennial of the American Institute of Architecture's (AIA) Portland chapter.
The actual hundred-year birthday of AIA in Oregon is October 27, so the big birthday bash will be held that night, along with announcements of this year's AIA Portland Design Awards recipients. The designers of today are not so many generations removed from those of the early days of permanent settlement here along the Willamette. After all, it was only 1844 when Asa Lovejoy and Francis Pettygrove chopped down some timber and built a cabin in what is now downtown. And the hilltop mansion of the Oregonian's publisher at the time – his name was Henry Pittock – was only completed in 1909.
Pittock's architect was from San Francisco; perhaps that prompted Portlanders to organize their own AIA chapter. Architecture was relatively new as a licensed profession; the first university to offer a degree in architecture, the Massachusetts Institute of Technology, had only begun its program in 1868. A lot has happened since, and the story is not over. Not by a long shot.
A schedule of all events and other details are online. We'll be checking in again as events get going, but be sure to note the tour of six contemporary houses by local architects, Saturday October 1.