Desirables
Sustainable Sound that Looks Good Too
A high-tech MP3 speaker/radio without the plas-tech look.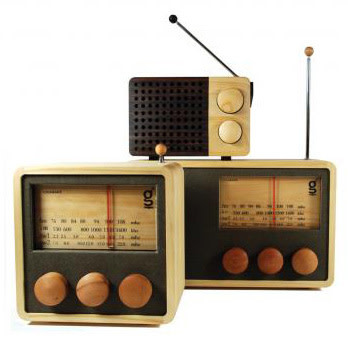 The more technological advances we experience in our digitized western lifestyles, the more we might also stop to contemplate humble materials that are unchanged over the decades or even millennia. Like wood: have scientists or tech-heads improved it over the years? A tree is still a tree. The Silicon Forest has not replaced Forest Park.
Which makes even more intriguing the mash-up of MP3 player with old-fashioned wood-cased AM/FM radio. The Magno Wooden Radio from Areaware is such a creature. And beautiful it is. The radio, which comes in three sizes, is made of wood from Indonesia. Sustainably-harvested wood, I might add; even though the wood itself may not have changed, our ways of harvesting have altered a bit in recent decades.
The Magno Radio plays on the look of old-fashioned radios, vaguely echoing the 1940s or '50s without copying. The designs are witty and simple, and come from Singgih Kartono, an Indonesian designer who not only has given these objects their unique look but has created a progressive economic system by which to produce them. After a big city design school education, he returned to the small village of Kandangan in Central Java, where he was raised.
Kartono developed a program to train local villagers in carpentry skills, plant and sustainably harvest trees, and distribute free trees to other villagers to plant on their own land. It sounds like a fabulous process (no pun intended), but the product is just as wonderful.
The radios pick up AM and FM radio stations (short wave, too, in the case of the large and medium sizes). Small, medium and large all accommodate a standard audio jack so the radio becomes a speaker for your computer or smart phone. They are battery-powered, with adaptors available and not expensive. Which can't be said of the radios themselves, admittedly; priced from $225 to $300, they are what might be called a sound investment – in global community, economic and ecological sustainability, and warm, full-bodied audio quality.
Locally, the Joinery carries the Magno Radio in small and large sizes. They are also available through the distributor, Areaware out of New York.