Desirables
Heath Speaks of the Hearth
The classic California ceramic dinnerware is perfect for creating a welcoming and warm Thanksgiving table.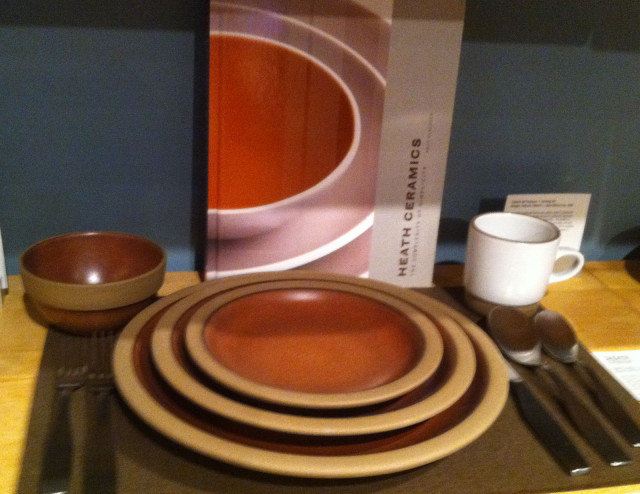 Heath ceramic dinnerware seems like a synonym for "hearth." It's not just that the letter "r" is the only thing missing from the name to transform it. It's the wholesome look and feel of the ceramics, the natural, warm colors and tactile, smooth but not sleek feel. "Hearth" says "home," in so many ways, and Heath says "home" just as clearly.
Perhaps that's why the line is a popular choice for Portland couples registering for wedding gifts at Canoe , the home and lifestyle store in Portland's West End neighborhood downtown. That Canoe is the Heath company's biggest retailer in the country shouldn't be a surprise: the aesthetics of the ceramics seems perfectly suited to our climate, light, and range of residential styles from bungalow to modernist.
Heath ceramics is fully rooted in the craft-oriented modernism that flourished in California in the mid-century. Designer and potter Edith Heath (1911-2005) founded her company in 1948, after the San Francisco department store Gump's picked up her line of dinnerware. She went on to experiment with stoneware clay body and glaze development, and many of her pieces are in the collections of museums like MOMA in New York.
In 2003, husband and wife Robin Petravic and Catherine Bailey purchased the company and have been reviving and expanding it since. They've added lines (Chez Panisse, anyone?) but kept the originals and the hand-crafted spirit. All production is still in Sausalito, where the company has always been. And Edith Heath's lower-temperature, single firing method is still in use; back in 1946, it was a war-era frugality but now the energy-saving technique is equally appropriate.
The Rim line of dinnerware pictured here was designed in 1960 for the company's increasing numbers of restaurant customers. The style's "wide rim" made for "easier handling and stacking" in the heavy duty wear and tear of restaurant use – which probably didn't hurt in the durability department either. Chances are, the 1948 Thanksgiving dinner table set with Heath stoneware could be set with the same plates and saucers today, and look and feel just as good.
Canoe
1136 SW Alder
Portland, OR 97205
phone : (503) 889-8545