DIY
Leaves, Light, and Luddites
Preserve the old-fashioned method of preserving leaves by pressing them in wax paper. Autumn leaves; beauty stays.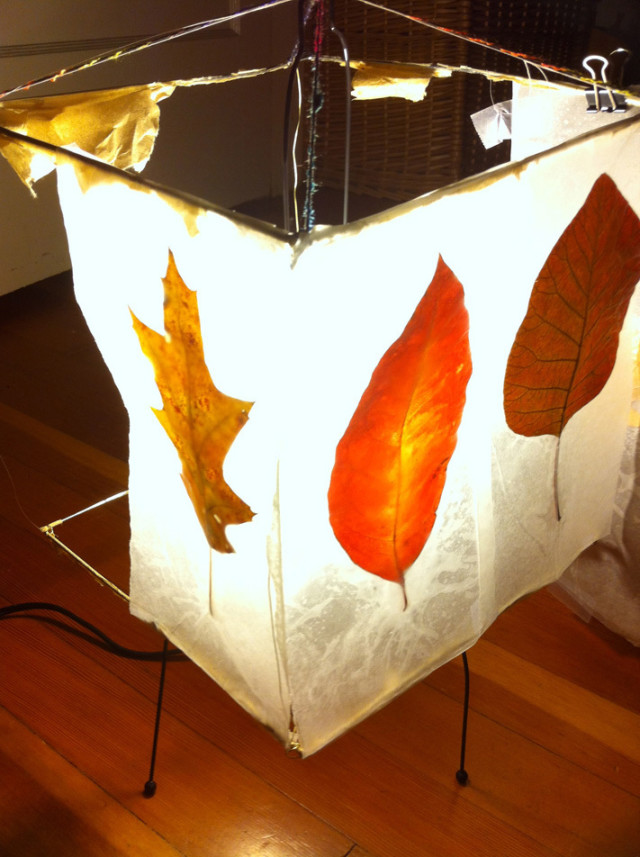 If you've been outside recently, you may have noticed that leaves are falling off trees. Many are beautifully rich in color – golds, yellows, reds and burgundies along with browns and bronzes. Yes, that colorful autumn leaf-peeping season hits Portland, not just New England. And who hasn't been tempted at times (especially if accompanied by someone under seven years old) to bring a few leaves home and appreciate their natural beauty up close?
Corny, yes, but also true for anyone who opens her eyes to the outdoors. Unfortunately the fallen leaves picked up on the neighborhood nature walk get crinkly pretty quickly at home. Toss them in the compost, sure – or better yet, remember that old elementary school activity of pressing leaves between wax paper? If not, just ask the nearest seven year old.
Pressing fall leaves between sheets of wax paper with an iron is a low-tech, Luddite and much more appealing version of going to Kinko's to use the lamination machine. Wax paper is easier, and lends itself to many simple, seasonally appropriate home beautification mini-projects.
The best of these involve light. Back light, to be precise. Colorful fall leaves ironed with wax paper look best when lighted from behind, whether it's against a window in daytime or a lamp or candle at night. Leaves can be laid in a random or ordered pattern, in a row on a long strip or on larger sheets; leave the design to your whim, or inner kindergartner (or perhaps consult with an actual kindergartner).
For example, a simple row of leaves laid horizontally on a long strip of waxed paper creates a colorful, natural yet abstract screen on my window, perfectly placed to block out the view of the cars across the street. A shorter strip of a couple leaves can wrap around a jelly glass holding a votive candle; put a few in a row and they can be a lovely centerpiece or mantel lighting for an autumn party. Likewise, "windowpanes" of individual leaves can be taped to a window or clipped temporarily to a white lampshade, especially a 1950s style fiberglass type. The wax paper itself disappears.
Crisp edges and consistently sized wax paper "frames" make the biggest difference between inner child-style and ostensibly mature adult, so go for whatever suits your mood. Just be sure the iron is at medium, and that you don't press directly on the wax – use a sheet of paper towel or cloth to lay first over the ironing board and then another layer between the wax paper and the iron itself. Press until the wax sheets adhere to each other around the leaf.
It's the most fun I've had ironing in a while. Then I thought of Noguchi, and got inspired to resurrect my long frayed and fallen apart Noguchi paper lantern. Isamu Noguchi was a Japanese American sculptor and all-around brilliant maker of things (iconic furniture to Martha Graham set designs to large public plazas and sculptures). His Akari paper lanterns from the 1950s are classics, oft copied. You've seen knock-offs at Ikea or even Fred Meyer; Design Within Reach and the Noguchi Museum, among others, sell the real thing. They are simple and beautiful. He called them "light sculptures," and Akari means illumination in Japanese.
Sturdy as the handmade washi paper and metal table lamps are, mine had deteriorated over many moves and decades. But perhaps anticipating that I'd live in upcycling, green-minded Portland in 2011, I kept the skeleton of the lamp – the fixture, wire frame bulb holder and spindly, anthropomorphic legs. Now I'm in process of resurrecting it with wax paper-pressed leaves replacing the ripped up original paper. I hope Noguchi doesn't mind. I think it will be beautiful.