Habitat
Lure of the Local
One of Pietro Belluschi's Northwest regional icons gets an update—from his son.
ARCHITECT TONY BELLUSCHI FONDLY remembers visiting his parents in their Willamette Heights home in the '80s and '90s and pondering the possibilities of floor plans and rooflines. He and his dad, Pietro Belluschi, would sit in the backyard and imagine additions: how could you grow a modest house bigger yet still maintain its intimate, hillside-hugging feel?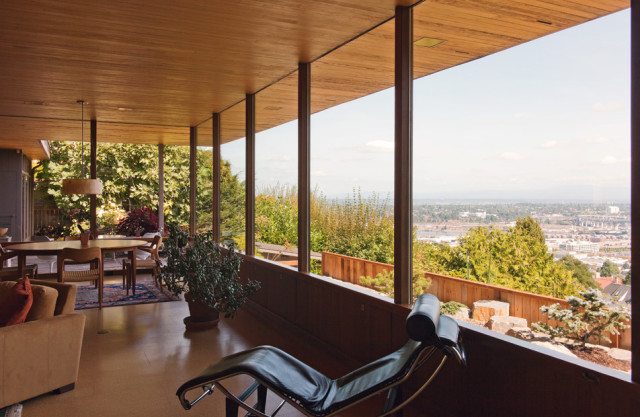 Never mind that the house was a modest masterpiece by Pietro, one of the pioneering architects of 20th-century modernism, and that Tony was an accomplished Chicago architect in his own right. Knowing all too well the demands of clients, both men had learned that most designs eventually have to be updated, especially for new owners—even if the owners were them. Pietro had bought the house back from the client for whom he originally designed it, and Tony knew that he might someday own it, too.
Now, 17 years since Pietro's death, Tony has brought those father-son musings to life in a delicately detailed, light-filled addition to the house he and his wife, Marti Belluschi, call home.
"I've seldom seen a sight that commanding," says Tony of the house's enduring draw. "It was the only flat-roofed house my dad ever designed in America. He resisted doing it, but it came to be his favorite house. I've been coming here for 38 years. It's like a member of the family."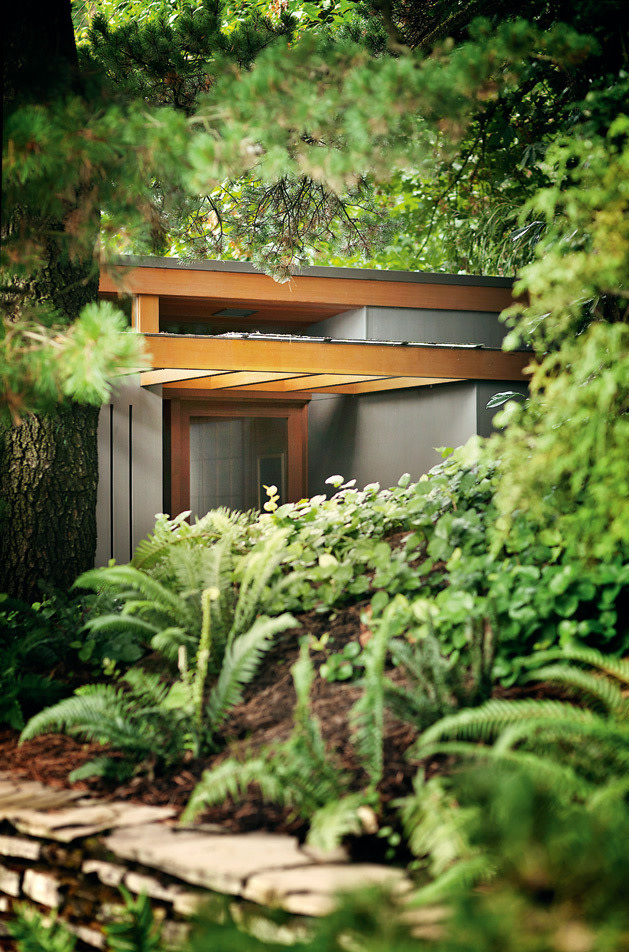 Pietro originally designed the home for a psychiatrist and his wife, Dewitt and Genevieve Burkes, around its breathtaking views of downtown Portland. With its simple open plan, use of local natural materials, and seamless blending of inside and out, the house became one of an ensemble of early Belluschi houses that helped to define the area's distinctive take on modernism: the Northwest Regional style. He completed it in 1948, the same year he rocketed to international renown with Portland's Equitable (now Commonwealth) Building at SW Sixth Avenue and Stark Street—one of the world's earliest (and still most elegant) examples of a steel-and-glass high-rise. Soon after, Pietro left Portland with his family for Boston to become dean of the prestigious architecture program at MIT.
Yet even as Pietro went on to design such legendary structures as Lincoln Center's Juilliard School and the Pan Am Building (with Walter Gropius) in New York, the Burkes house always beckoned. In a guest book that belonged to the original owners, Tony points out the page where his father recorded a 1965 visit with the note, "This sure would be a nice house to have someday." In 1973, he got his wish: Genevieve called to see if he wanted to buy it. Soon Pietro and his second wife, Marge, were on their way back to Portland.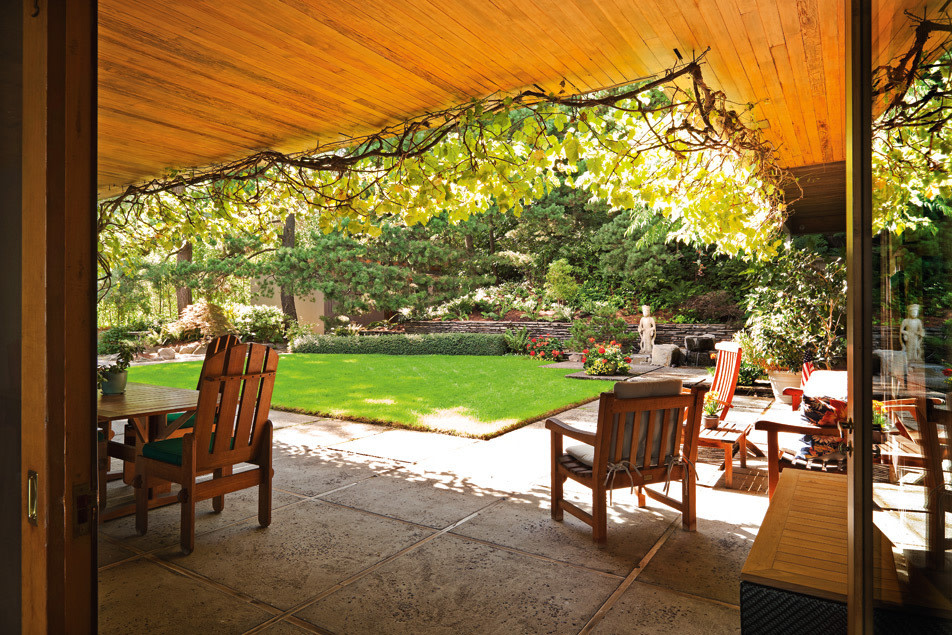 Meanwhile, Tony's career took him to Chicago, where he developed an architectural practice designing major retail centers around the country and in far-flung places like Melbourne and Istanbul. (He's currently at work on his third major remodel of the four-story-deep shopping center beneath the tallest building in the US, Chicago's Willis Tower.) Yet, over the decades of visits, he and Marti felt the Burkes house's draw—especially after Marge passed away in 2009. Another beautifully designed example of the Northwest Regional style had been bulldozed in the mid-'90s to build a bigger house on a similarly spectacular site. "I just couldn't let that happen," Tony says.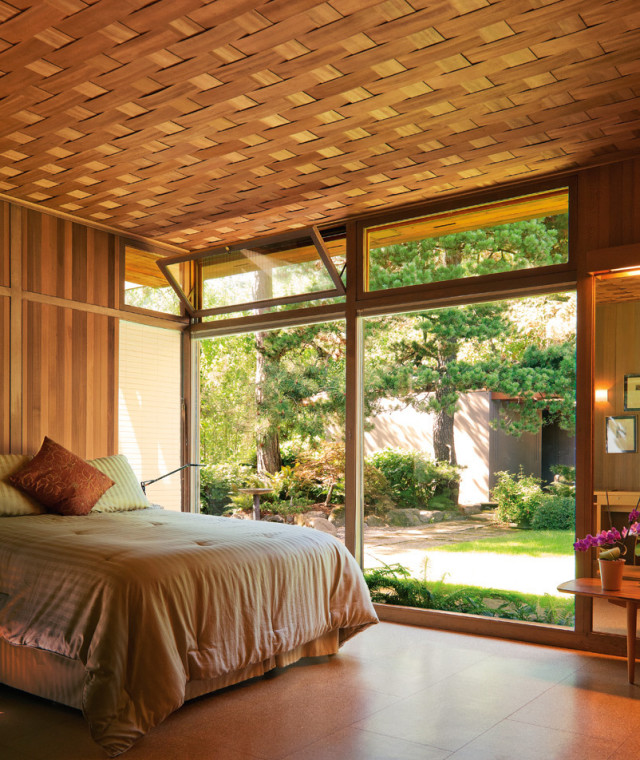 The first task was to replace the old shed—dubbed the "tea house"—with a guesthouse where he and Marti lived for much of the remodel. It became an experiment, as Tony describes it, "to prove that you can live in 365 square feet." Describing the design as "one room divided into three spaces," Tony likens the efficient interior to a boat: "instead of a room for everything, it's a room where you can do everything." To Marti, it's a "jewel box" of fine craftsmanship and materials, including travertine in the shower for a "touch of Italy."
The tea house set the architectural language for the rest of the remodel: a simple update of the kitchen, with every detail down to the door pulls picked for compatibility. But he and Marti also needed more space. Besides visiting children and grandchildren, there was their large art collection of Chicago artists as well as many drawings and paintings by Pietro and his circle of friends, from regional guru Harry Wentz to the internationally renowned designer-artist Gyorgy Kepes.

Back in the 1980s, Tony and his father had sketched a set of drawings outlining a simple solution to the space problem: a gabled second story over the flat roof. But after working through several site plans, Tony arrived at a subtler, one-and-half-story scheme of guest suite, work room, and loft that he then connected to the original house with a skylit "mini-museum" for art. The solution kept the integrity of the original simple, open plan.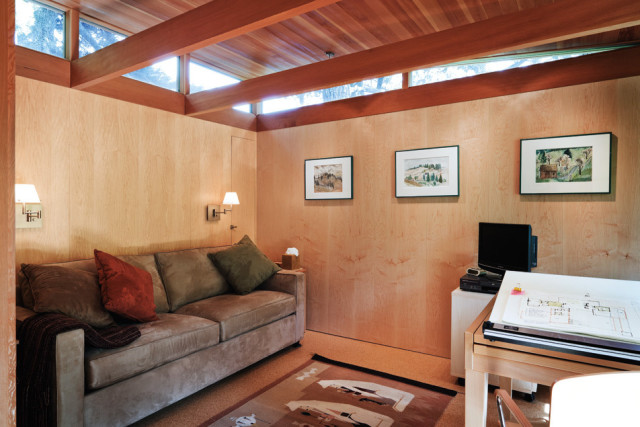 Tony describes the rest of the project as "a rebirth," restoring such features as the fir ceiling planks (the flat roof, not surprisingly, had leaked) and the cork floors, as well as one of the house's most unusual features: narrow bands of wood veneer, woven across the ceilings of the bedrooms like a basket. At dusk, the light in the living room is as magical as it ever was.
From the outside, new and old "talk to each other" with a gentle zigzag of the roofline. The original house shines, set off by the subtle addition—"all part of the same family," Tony says, "even though they each have their own character." A bit like father and son.