Desirables
Eats (From) Leaves (That) Bend
Plate up dinner on beautiful bendable leaf-like dishes from Nao Tamura.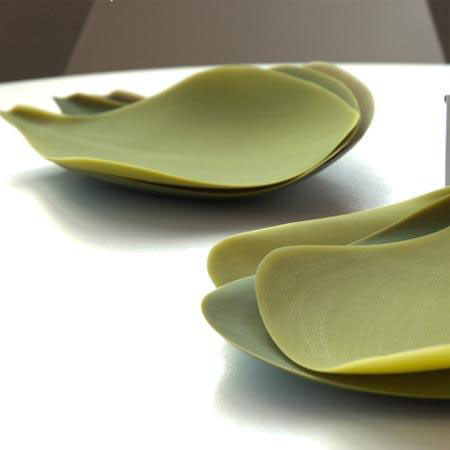 It's become common to see silicone in the kitchen – the heat resistant rubbery material is a go-to for bakeware, cooking utensils, and even collapsible measuring cups. But silicone that leaves the kitchen and shows off on the dining table? That's a new one.
Nao Tamura is the designer of such lovely leaf-like serving and dining plates. She is a hybrid Tokyo/New York City artist and industrial design innovator who showed the Seasons line of silicone plates at Design Miami and Art Basel in Miami Beach in 2010. Portland creative guru John Jay says, "Nao is one of the most inspiring young designers in both Japan and America today."
Today the Seasons platters and dishes are available online through the Museum of Modern Art shop and Unica Home. Plates come in small and medium sizes in sets of four, or in a single platter size. Each plate is slightly different in color and shape, like the leaves of an artichoke are as you peel away its layers.
Like most leaves, Tamura's leaf plates are multifunctional, pliant and beautiful. Unlike most leaves, these can be rolled up for storage, washed in the dishwasher, and safely heated in the oven. And though silicone is manmade, and thus not as natural as a leaf from a tree, it is a compound of the natural element found in sand and rock (28% of the earth's crust) with oxygen. It's considered safe for serving, heating and cooling – a far cry from an old fashioned plastic.