Desirables
Orange Hits the Spot
A splash of orange adds spunk and sunshine to mostly rainy March days.
Spend any real time in Portland (that is, any wintertime) and you'll know not only what sunbreaks are but also how important they are to getting us through the winter. (If you haven't spent time in Portland in winter, of course, you haven't really been here.)
A sunbreak may be short, but it alleviates grey skies with empirical proof that the sun is in fact out there somewhere. Same goes for spots and splashes of color in an otherwise neutral interior world. And the top choice for those splashes? Orange.
Not just because it's the color of a basketball (and I've got a bad case of March Madness). Not because it was deemed Pantone's color of the year for 2012. But just because: it's bright and energetic and a perfect antidote to March.
Thus it's well-timed relief that local home décor companies are featuring fun sun spots of orange in their new lines. Ceramics creators Pigeon Toe have come up with a whimsical take on their simple hand-thrown white tableware: mugs and espresso cups get a dash of orange glaze over their bases. (Though several other colors are also available, what they call "citrus" is the most spirited.)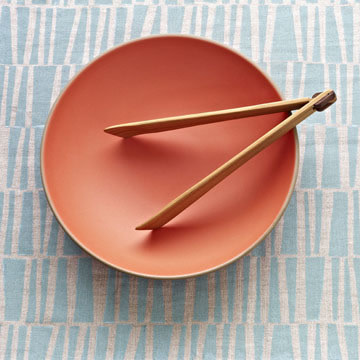 YOLO Colorhouse recently previewed a bit of the upcoming summer line from California's Heath Ceramics, which features various shades of lovely orange. These colors refresh without overpowering. Heath co-owner Catherine Bailey has an interesting explanation of the creative process of developing what seemed to be the right vibrant, saturated orange tones for summer; she offered her description of the process and of her love of color on YOLO's blog recently.
Not to be all Anita Bryant about it, but these colors are a touch of sunshine. You remember Anita, don't you? "A day without orange juice is like a day without sunshine" was the non-controversial phrase she was known for in the '70s. She obviously never lived in Portland.