Mudroom
Adams & Eden
How the mayor's front yard went from feral to friendly.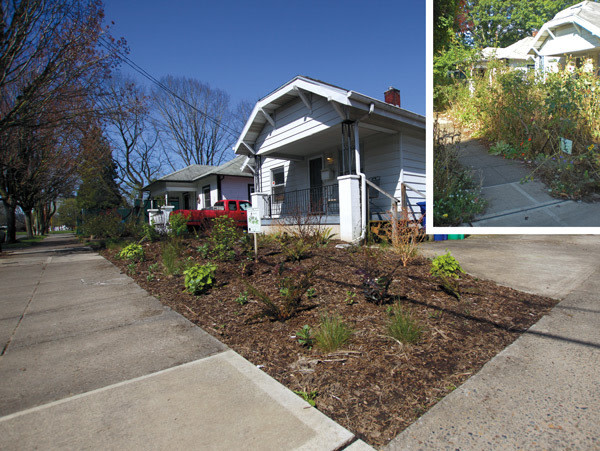 SOON-TO-BE-EX-MAYOR Sam Adams needed a fresh start. He began with the pokeweed in his front yard.
The ever-multitasking city hall veteran first noticed the weed among his North Portland plot's underwatered rosebushes, fava beans, blackberry vines, and other eyesores. A devotee to a backyard filled with vegetable beds, chickens, and bees, Adams tended to ignore the front. "People would tease me about it," he says. The noxious pokeweed became the prime symptom of neglect.
"It was getting bigger, and I was feeling very proud," Adams jokes. "Then it grew a little too big. I thought, nothing that grows like this can be good for the world."
Last year, Adams enrolled in the Backyard Habitat Certification Program, created by Columbia Land Trust and the Audubon Society to help homeowners replace invasive weeds with native plants. Since the effort launched in 2009, more than 1,200 people have participated, says program director Gaylen Beatty.
"Sam's a good example," Beatty says. "We want to do the right thing, but aren't sure what's growing on our land, good or bad."
Marina Wynton, the landscape designer who runs Olivine Land, lives and works nearby and had been itching to get her hands on Adams's yard for years. As a "site technician" for the habitat program, Wynton designed a new garden with native plants that would attract birds and require minimal watering.
Today, the new plantings even help repel weeds—good for Hizzoner's current busy schedule, and giving Citizen Sam a clean new bloom for the future.
Before
Invasive blackberry and Italian arum plants
Rosebushes as a thorny, protective barrier from the street
Clay soil amended with a cover crop of fava beans
Driveway border filled with weeds and compacted soil from previous owners' car-parking habits
After
Native plants installed by Superwonderful Garden Design's Elizabeth Cardinal, including Elijah Blue fescue, mock orange, common snowberry, dull Oregon grape, evergreen huckleberry, and sword fern
Center Glow ninebark as a tall, protective barrier from the street
Soil amended with organic soil blend from Pro-Gro
Driveway border filled with native shrubs, ferns, grasses
For more, see audubonportland.org.