Habitat
Period Perfect
A Southeast couple revives the Queen Anne lifestyle.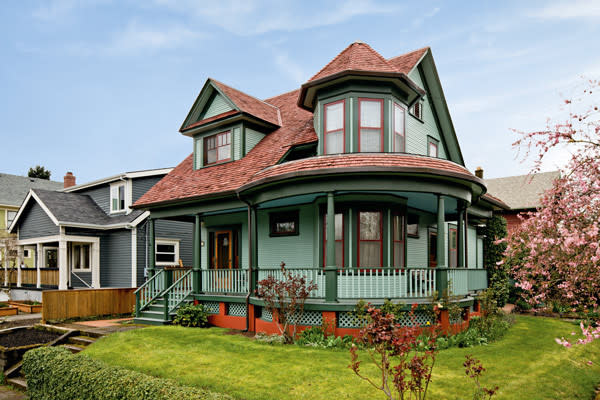 EVERY 15 MINUTES, one of Audry and Chris Bond's five antique clocks chimes its deep, sonorous tones throughout their home. In the corner of their foyer, a fox fur stole drapes lazily over a coatrack, and flickering electric lamps illuminate the pathway to the living room. Portraits of long-dead strangers framed in gilt hang from tasseled ropes, surrounding the kitchen's 745-pound cast-iron stove that dates to 1899. Indeed, everything in this 1906 Queen Anne Victorian's details harks back to a bygone time—even the ghosts. "Various people haunt the house," Audry says. "We have cats and a turn-of-the-century nurse and a young man in his 20s. Every night, at 4 a.m., someone goes up the steps and past the bedroom."
The Bonds weren't always antique aficionados—nor were they friends of ghosts. In fact, Audry had to be talked into buying the home. "I hated it at first," she says bluntly. When they were house hunting, her dream was a larger version of the 1927 Spanish Colonial–style home they were selling, but the price was right and the neighborhood (just off of SE Belmont Street) was appealing. They also appreciated the fact that little of the Victorian's architecture and layout had been altered, leaving them with a well-preserved slice of time to work with.
Though the kitchen had been remodeled in a tacky, '70s style and all the woodwork was painted white, everything else was original to the 1,800-square-foot home. "We're the 17th owners of the house," Audry explains. "At one time, it was owned by a church to rent for a dollar to poor families." But the first week in their new home, Audry ripped down the vinyl floral wallpaper from the living room walls, and immediately realized the potential of the space. "I started seeing the beauty of the wood and understanding what this house means in terms of Portland history," she says. "It just has so much character." 
They gave away their furniture—Scandinavian contemporary pieces in pastels—and started anew. Neither Audry nor Chris had any background in historical renovations other than a passing interest in antiques, but they immersed themselves in Victoriana. "We're both meticulous people," says Chris. "So we didn't want reproductions; we wanted the real deal." The couple spent weekends trolling vintage stores and poring over photos in books about designers of the early 1900s, like Charles Eastlake, Christopher Dresser, and William Morris.
"Layering objects and furniture on top of each other was very common then," Audry says. Also popular: "heavy, dark, saturated colors, and materials like velvets and damasks, and wallpaper on the walls and ceilings." Things weren't just pretty; they were also practical in the early 1900s, when people didn't have space or money to waste. "The Victorians were the original recyclers," says Chris—hence the quilts made of repurposed scraps of fabric, the heavy wood furniture built to last generations, and even framed art made out of human hair next to their piano.
The living room is a perfect microcosm of the era's aesthetics: papered in hand-silkscreened wallpaper by Bradbury and Bradbury, with antique-style lighting that provides a dim, flickering effect. A cross-stitched cover on top of a corner chair acts as an antimacassar, protecting the fabric from pomaded (or in modern parlance, gelled) hair, while showing off a lady's embroidery skills. Even a vase of orchids and framed family photos are indicative of that era. Audry, a talented seamstress, loves the tactility and texture of Victorian decorating, so she sewed pillows and curtains throughout the home.
Still, subtle hints of modern life do creep into the house. Audry and Chris work outside the home—he's a consultant at PGE, and she works in accounts receivable. Though she sews and collects first editions of classics, and he enjoys smoking pipes, he also plays in three bands, and she practices yoga. Modern conveniences are hidden in the house, from a small Bose stereo to whole-house air conditioning to a Miele refrigerator tucked behind wood paneling in the remodeled kitchen.
The overall vision is nonetheless one of immaculate attention to Victorian style, of which the couple is justly proud. Unlike those who treat their period homes as museums, "we really do live here and use everything," says Chris. "We still have modern amenities, but it's a period restoration, and the Victorian feel makes it more fun."