To Read
The 50 Mile Bouquet
Local and sustainable hits the florist shop.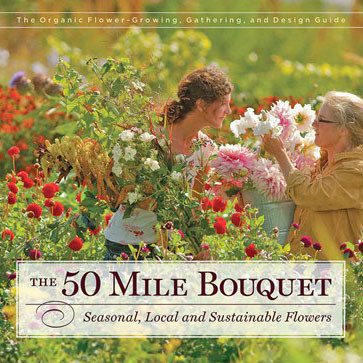 "Local" production, of food and other consumable goods, is not news, at least not here in Portland; neither is "sustainable." And as they both grow as trends, they become less and less news, and all for the better. But the cut flower industry is relatively new to that awareness. The 50 Mile Bouquet – Seasonal, Local and Sustainable Flowers, however, is a beautiful new book that describes (in words and gorgeous photos) the movement as it pertains to the floral industry.
Perhaps "movement" is the wrong word in this case – lack of movement is more accurate. Lack of movement as in, not importing flowers from Holland. About 80% of the cut flowers sold in the U.S. come from outside the 50 states. (Of the remaining 20%, three-quarters of these are grown in California.)
These are the sorts of things you'll learn by reading The 50 Mile Bouquet by Debra Prinzing, but you might just skip the words and look at the photos, by David Perry. It'll make a beautiful gift, for yourself or your favorite flower lover. The book features local floral designers Solabee as well as the Portland Flower Market, a co-op started in 1942 by the Oregon Flower Growers Association and still co-operating down at Swan Island.
Many of us have grown our own flowers in the yard, even if it's just a bunch of daffodils for early spring, or zinnias to brighten up the summer, or roses since we live in the Rose City. But many of us (most?) don't go so far as to have a cutting garden. That's where the local florist comes in, even if his name is Trader Joe. But TJ ain't exactly local; his sunflowers, for instance, though they are cheap, come from SoCal or Mexico. So slow flowers are a welcome trend to be spotting.
It's a long way from now, but mark on your calendar: Debra Prinzing will be within 50 miles of us this fall, sharing with us how to create your own bouquets at the Oregon Garden Friday, September 21st (3:00 pm to 4:30 pm) ?and Saturday, September 22nd
(2:00 pm to 3:00 pm).