Habitat
Breaking Tradition
A Portland couple re–imagines the classic tudor.
A sunny wink of a front door punctuates the cool gray face of Risa Boyer Leritz and Nick Leritz's home. Fronds of black mondo grass and a sleek concrete path usher visitors past a vivid orange table and chairs. Inside, a sense of serene elegance finished with a flash of color continues with sly pops of chartreuse and fuchsia set against a backdrop of neutral tones, midcentury furniture, and white marble. It's a polished surface with a sense of adventure lurking beneath.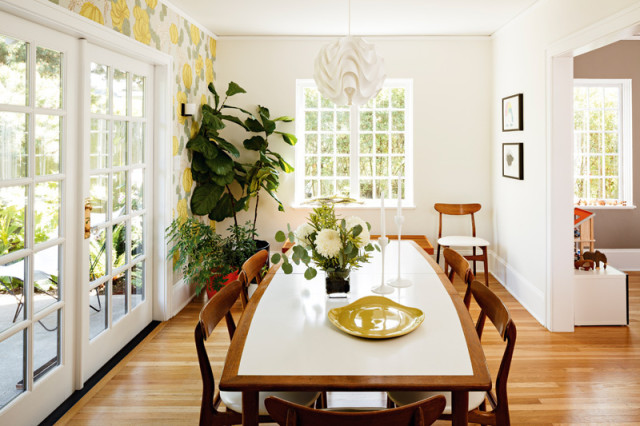 Three years ago, Portland lured the couple from Los Angeles. Risa, an architect with her own practice, and Nick, an energy management consultant, were eager to put their mark on a home of their own. They selected a 1926 Tudor-style house based on its location and good bones. After a 35-year occupation by the previous owners, though, "the place was a total disaster," Risa recalls. "It was a really traditional place with funky things done to it," including "a '70s remodeled kitchen with gross cabinets." For the architect and her husband, that only made it a more appealing challenge.
The couple took on most of the work themselves—everything from initial design and permitting to demolition, framing, and electrical. Risa hung the delicate hand-screened wallpaper in the dining room. ("I'd never installed wallpaper before," she says. "But I'm an architect! I can cut straight lines!") Nick wasn't working at the time, Risa worked from home, and their daughter, Harper, was too young to be at school, so it was a full house. Looking back, Risa remembers the process as "a big, blurry haze."
At 1,750 square feet, the house's original plan was typically Tudor: plenty of rooms, no space. Add to that a galley kitchen and stodgy finishes, and the couple's primary goal became adding light and elbow room.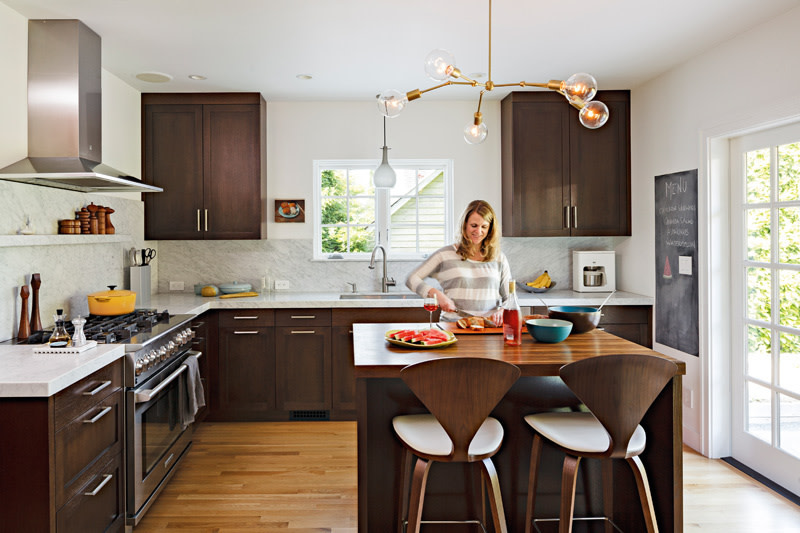 Their renovation's centerpiece is a 250-square-foot addition to the kitchen that now serves as the main gathering area, centered on a large island for food prep and dining. A dark stain on the cabinetry complements the white Carrara marble countertops and the warm finish of the white oak floors. Three sets of French doors now open up the back of the house to the outside.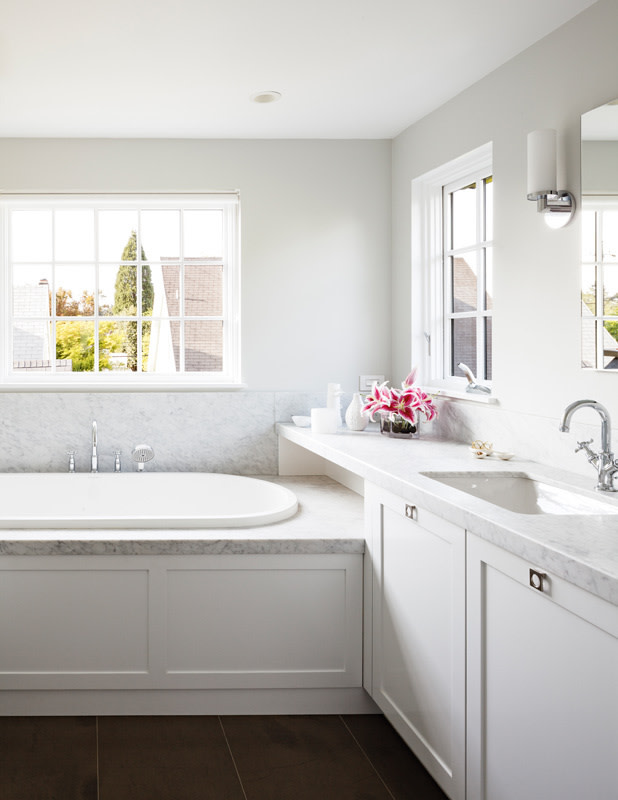 Upstairs, the addition is a master suite that bumps out the old sloping roof into an expansive, loft-like bedroom. Throughout, gray limestone floors and more Carrara marble in the bathroom surround a massive soaking tub. A neutral paint palette of earth tones creates a subdued backdrop for the family's clean-lined midcentury furniture.
To Risa's high style, Nick applied his credo of energy efficiency. A solar roof array provides up to a third of the home's total energy needs, FSC-certified lumber was used whenever wood was needed, all of the fixtures are low-flow, and the paint is all non-VOC (meaning it doesn't emit harmful gases). The front lawn now hosts drought-tolerant native plants and grasses. The stucco exterior is naturally green—"It's easier to seal up tightly because you don't have gaps between boards," Nick explains.
After this thorough infusion of personal style, the house is perfectly suited to its family. As the summer sun dips behind the backyard laurel hedge, the garden is illuminated by the soft glow of a fire pit. Harper grabs a handful of raspberries outside and runs through the French doors to join her parents making dinner in the kitchen. "It takes a lot of work when you do it yourself," says Nick, marveling at it all. "But it feels so much more comfortable to live in a place we've created."