Mudroom
Toll Position
Why we should care about Vancouver's mayoral race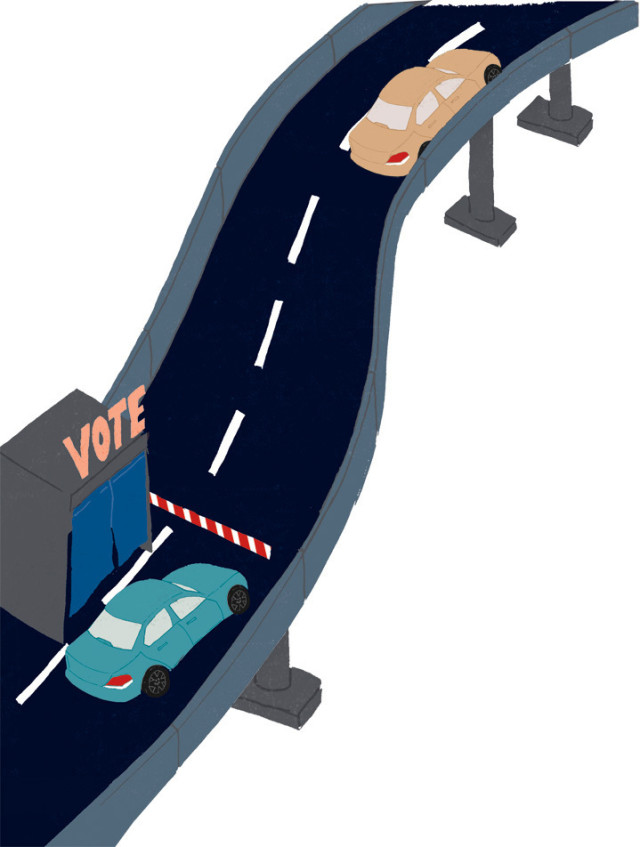 PORTLANDERS OFTEN DISMISS VANCOUVER as nothing more than an unsightly growth sprawling down one side of our sleek urban hide. But on November 3, we'll discover our northern neighbor's clout when the 'Couv takes a vote that could shape the entire region's destiny.
To the locals, it's just a mayoral race. Royce Pollard—a 70-year-old Army vet who's been in office since 1996 and is surgically attached to the word "gruff"—faces a challenge from soft-spoken, sharp-elbowed 38-year-old city councilman Tim Leavitt. But to greater Portland, the race is about one issue: bridge tolls. Specifically, tolls on the Columbia River
Crossing, the proposed elephantine replacement for the Interstate Bridge.
No one knows how much the crossing's toll would be. But given the project's estimated price tag of $4 billion and the scarcity of federal transit dollars to pay for it, suffice it to say that many of the 60,000 Vancouverites who drive to work in Portland every day aren't waiting around for the details.
Pollard favors a toll (as low as possible, of course). Leavitt's against it. And after narrowly beating Pollard in a three-way primary in August, Leavitt knows he's got a formidable campaign-trail cudgel.
Debates have raged over the proposed bridge's size and design, but only peak-oil wonks contest the need for it. With regional freight traffic expected to nearly double in the next 20 years, 70 percent of it moving by truck, the aging bridge has become a critical choke point along the I-5 trade route that stretches from Canada to Mexico (and because the bridge is built on wood piles, it's also an extremely vulnerable point, seismically speaking).
Both candidates firmly back replacing the bridge. Pollard has spent years on the bridge's bi-state task force, gaining an insider's perspective that makes him— depending on your view—either wiser to the project's many intricacies, or a calcified insider deaf to populist furor over a de facto commuter tax.
"No one who knows what we're up to here says that you can build this without a toll," Pollard says with the self-assurance of a man who ended his Army career as commander of Vancouver's barracks.
"Mayor Pollard has been talking about tolls for a decade," Leavitt counters. "As a result of his fixation, we have lost a decade of opportunity to discuss a more equitable way to finance the bridge."
Vancouver's "Portland-don't-tread-on-me" reputation precedes it; in 1995, its voters crushed a proposal to extend TriMet's light-rail system to downtown. But the border between the cities has always been grayer than either one likes to admit—and it's only getting more so. These days, Vancouver's southbound commuters send $180 million back to Oregon in income taxes. With a population of more than 164,500 residents—almost twice the size of Beaverton—the 'Couv is the second-largest and fastest-growing city in the metro area. More than 20,000 Oregonians now commute north for work every day. And Vancouver's not just a collection of strip malls and subdivisions anymore: the city that snooty P-towners call "Vantucky" boasts elegantly restored 19th-century architecture, funky old-man bars, and boutique-ready storefronts. It could be a super-sized version of St. Johns linked to us by light-rail (with a bonus: lower property taxes).
Vancouver's mayor cannot affect any aspect of the Columbia River Crossing by unilateral decree, but a clumsy player could trip up the delicate alliance between construction unions and advocates for freight, light-rail, and bicycles that's come together, however reluctantly, to build the project. Even though Tim Leavitt says things about light-rail (pro) and sprawl (con) that signal a stronger bond with Portland in the future, right now Pollard may have the old soldier's nose needed to navigate the bridge's complicated battlefield.
But on election day, as Vancouverites decide for whom the polls toll, Portlanders will just have to watch, powerless.