Stage Presence
5 Questions for Kinky Friedman
Author, politician, songwriter, and cowboy philosopher speaks up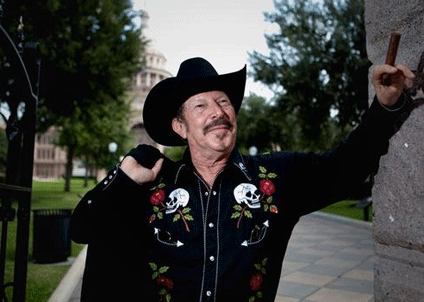 Kinky Friedman is one cowpoke who doesn't seem to mind wearing a whole bunch of different hats. He first attracted attention in the mid-70s as the leader of Kinky Friedman and the Texas Jewboys, a rollicking revue responsible for such cockeyed country hits as "They Ain't Making Jews Like Jesus Anymore" and "Get Your Biscuits in the Oven and Your Buns in the Bed." The 1980s brought us Kinky 2.0, a best-selling writer of mystery novels that featured himself in the role of "consulting detective" along with a supporting cast of his actual friends and family. In sly tomes like Elvis, Jesus, and Coca-Cola, and A Case of Lone Star, the actual mystery that requires solving plays a distant second fiddle to Friedman and cohorts like former National Lampoon editor Larry "Ratso" Sloman, journalist Mike McGovern, and lesbian choreographer Winnie Katz arguing about food, espresso, and the sad fate of Hank Williams.
But wait, there's more! Friedman, disgusted with the state of politics in his state, ran for governor of Texas in 2006, and with help from friends like Willie Nelson and the Dixie Chicks, he received 550,000 votes. Not bad for an unmarried Hebrew hick who loves dogs and cats and smokes a helluva lot of cigars.
Friedman is doing the music thing again, performing a set list of his finest tunes ("I haven't written a new song in 25 years," he confesses to me) tomorrow night at the Roseland. He'll also be hawking books, telling stories, and shooting the bull with a roomful of clamoring fans. On a bummer note, he was hoping to have his buddy John Callahan, Portland's most famous quadriplegic cartoonist open the show for him, but it was not to be. Callahan passed away last weekend.
The illustrious Mr. Friedman was kind enough to answer five questions for me in a phone call from his ranch in the heart of Texas.
Where'd you first meet Callahan?
It was about 10 years ago when I was in town at—what's the name of that venue? The Roseland? I met John there and since then he's illustrated a few of my books. And I've got a Callahan story in my book Kinky's Celebrity Pet Files. But I've got a guy who might be interested in Callahan's songs—some of them are excellent—Billy Bob Thornton. I think he has the vision, but I've got to get a copy to him. We're working on a book deal together. Actually it started out as a book, but now it's looking like a musical tour of Australia. It'd be Billy Bob, Billy Joe Shaver and myself.
You're returning to the stage to play music. Is that something you'll always come back to despite your many other commitments?
Oh yeah. Success distances you from your art and you can see the examples of Willie (Nelson), Bob (Dylan) and Kris Kristofferson—three really great writers who arguably haven't written anything great in a while. Once you're an icon you lose whatever you had that was making you miserable and most great work is made by people who don't feel good. I strive to be significant. I'm 65 and I read at the 67-year-old-level and I've got my last will and testament down. When I die I'm to be cremated and my ashes thrown in Governor Rick Perry's hair. I'm pretty well out of politics and I think if you fail at something long enough you become a legend—that's what's happened to me. It's a giant step down from a musician to a politician, you know, it really is. And I'm ready to get back on the road. There's something about music that has more truth to it than anything you hear in politics.
So you're not going to run for governor again. What's your take on politics at the moment?
I'm very disappointed with the government, with what they've done. I didn't expect anything from BP. But as far as Obama's concerned, the "yes we can" candidate going down to the gulf and saying "what do you expect me to do suck it up with a straw?" This is not exactly Winston Churchill here. I'm calling for term limits. I think every elected official should be limited to two terms—one in office and one in prison. I think that would do it. And I've suggested a new law where nobody from Harvard, Yale or the state of Texas can run for president.
You're a pretty restless guy. Are you looking for a new frontier to conquer?.
I'm just kinda wandering in the raw poetry of time. I'm a prophet in his own country that's my problem. That and being multi-talented that's the real problem.
I had an idea. Maybe you could just send out an actor to appear on stage as you, kind of like what Hal Holbrook does with Mark Twain. You could call it "An Evening With Kinky Friedman." What do you think?
John, that's an excellent idea. I'd just need a bunch of Kinky impersonators and I'd still get a good share of the profit. You want to give it a try?