Mudroom
Circuit Breaker
A Portland designer builds the electric bike to beat.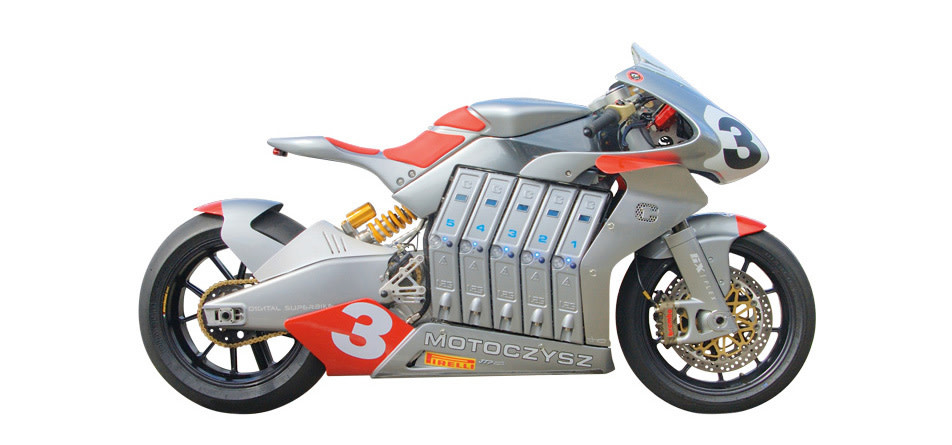 In 2009, organizers of the renowned TT motorcycle race on the Isle of Man threw a wrench into a century of internal-combustion tradition: make a zero-emission race bike, they challenged. Portland motorcycle designer Michael Czysz ("sizz") leapt at the chance to align racing and resource conservation: "We are going to eventually run out of oil," he points out. In June, MotoCzysz debuted the all-electric E1pc, sweeping the TT Zero competition at a nearly silent 94.6 mph course average. And in July, Czysz himself rode the E1pc to a dramatic victory (he started the last lap nearly 7 seconds behind) at the electric-powered world championship race at Mazda Raceway Laguna Seca. With a torque that blows away its smog-sputtering cousins (Czysz has ticked 141 mph at just 40 percent throttle), E1pc's got to have Vin Diesel contemplating a name change.
A.

SEAT
With a dual-position seat, the E1pc allows the racer to sit solidly in the traditional saddle for stable cornering, and then slide backward onto a smaller perch to ride more aerodynamically prone for those Salt Flat straightaways.
B.

BODY
At high speeds, any motorcycle's acceleration causes a low-pressure vacuum behind it (even greater than a car's) that can destabilize the rider. The solution? Winglets, which channel turbulent air into ducts under the seat and out, breaking up the trailing low pressure.
C.

MOTOR
MotoCzysz engineers overcame the notorious heat problems of air-cooled motors with their proprietary, custom-designed Digital Drive. This oil-cooled electric motor generates significantly more torque than its air-cooled cousins, can maintain peak performance as long as the batteries last, and is small enough to fit snugly under the bike's swing arm.
D.

DRIVETRAIN
The single-geared E1pc is the fixie of the motorcycle world, with a direct connection between the throttle and the rear wheel. According to Czysz, the bike operates at more than 90 percent efficiency. Most internal-combustion bikes, by contrast, lose around two-thirds of the engine's horsepower to vibrations and exhaust.
E.

POWER
The E1pc's 10 lithium batteries—similar to those used in the space shuttle—pack a combined punch of 12.5 kilowatt-hours. Weighing a middling 195 pounds in total, the nearly wireless batteries click into receivers, enabling a safe swap-out in seconds. Defiantly DIY, Czysz boasts that the batteries "were built in-house, welded by me."