Ax Season
The Fans
With the Timbers' first MLS season approaching, the Timbers Army is ready and willing to take on new members. It all started with a group of 10 raucous fans in 2001 and has now grown into a full-blown, organized army.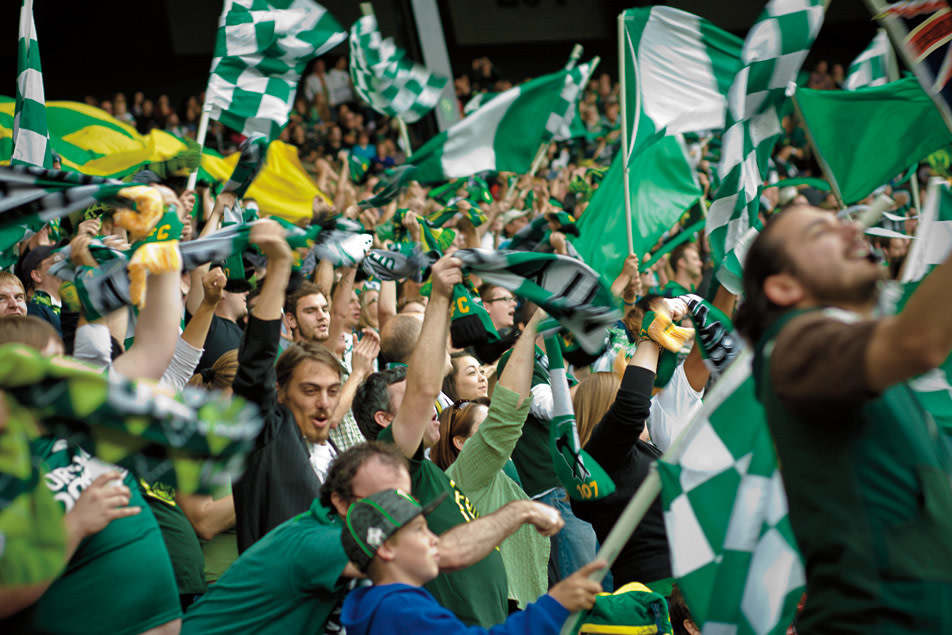 INSIDE THE TIMBERS ARMY, the mass of hard-core fans at PGE Park's north end, a soccer match feels like an ancient war zone. A thundering choir of thousands churns a cauldron of chants and songs. When an opponent feigns injury, these brazen partisans brandish scarves that read "NO PITY." When the Timbers score a goal, smoke bombs, streamers, flags, gallons of spilled beer, and a megaton of pent-up emotion erupt.
It's worth noting that this enthusiasm wasn't created in a corporate lab. Jeremy Wright, 37, a professional political consultant and lifelong soccer fan, was part of the embryonic Army at the (reborn) Timbers' first home game on May 11, 2001. "There were about 10 of us," he says, "yelling and banging on empty pickle buckets." Sensing something unusual bubbling in section 107, the team's then-owners agreed not to blast stadium rock, giving the Army a blank canvas to develop its arsenal of chants and traditions.
Over the next decade—despite apathetic owners and soccer-hostile sports media—the Army grew through word-of-mouth, homemade fliers, Internet forums, and gatherings at the Bitter End Pub before and after games. (It was here that the design of the first Army scarf took shape on a cocktail napkin.) The effectiveness of this grassroots recruiting is indisputable. "I used to be able to go to games and know everyone," Wright says, noting the thousands who now pack in for every game. "Not anymore."
In 2009, supporters put a face on this teeming mob by forming a nonprofit, the 107 Independent Supporters Trust, to coordinate merchandise, rallies, convoys to away games, and even charity fundraisers. Despite this new veneer of organization, the Army remains true to its anarchic principles. There are no membership fees or initiation rites. In fact, some say that if you think you might want to be in the Timbers Army, you already are.