Events/Classes
Flower Class with Frolic!
Take a flower-arranging class on April 30 with Chelsea Fuss of the whimsical and wonderful blog Frolic! and learn to make fresh spring blooms from your garden (or the grocery store) so very stylish.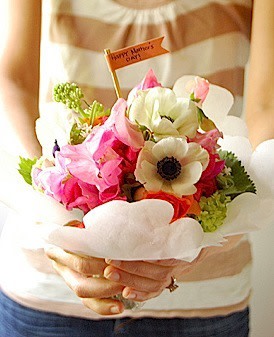 Perhaps you have a gorgeous garden, full of all kinds of spring flowers, but you have no idea how to pull them together in a pretty bouquet. Or perhaps, like me, you buy your blooms at the farmers market or grocery store, bring them home, dump them in a vase, and the sad stems droop over the sides or clump together in some sort of sad approximation of a floral arrangement.
Chelsea Fuss can help you. The Portland-based author of the very popular blog Frolic! everything from notebooks dotted with strawberries to rustic woven baskets to beautiful clothing—Fuss has also been a floral designer for more than a decade. Starting at Portland's Poppybox Gardens in 2000, she's had her own shop, Posies, and trained in London with Jane Packer and Wild At Heart. In addition, she's an event designer and commercial floral stylist.
Apart from being impeccably trained and talented, she also has great taste. For her class, Fuss will teach how to make French hand-tied bouquets using special European techniques of hand-spiraling the stems—the kind of arrangements you see at every beautiful flower shop in London and Paris, but is somehow rare here. Flowers will include hyacinth, hellebores, anemones, and seasonal spring flowers and greens, and you'll take home your creation.
Class will be held on April 30 from 11 a.m. until 2 p.m. at Bernadette Breu, a store set in a warehouse in inner Southeast (1338 SE 6th Avenue). Browse the store's industrial vintage offerings and offbeat antiques, munch on homemade goodies, and ply Fuss with all your floral questions (and blog acclaim, if you're a fan like me). And learn how to finally place flowers together so they actually look like those magazine photos you love!
But sign up soon—with space limited to 15, the class is sure to fill up fast.