Made in PDX
Lovely Woolly Laptop Cases
Local company The Good Flock makes stylish cases for laptops, iPhones, and iPads, while keeping everything organically modern.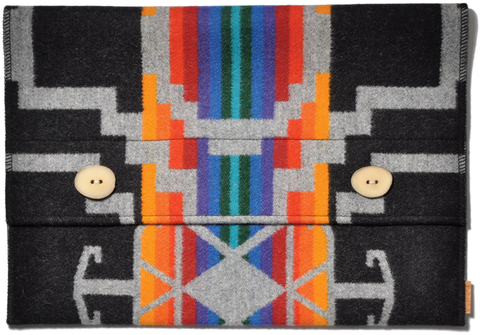 It's a pleasure to discover a new local company putting out great products. So I was thrilled to stumble upon The Good Flock, a business started by Marco Murillo, a former product line manager at Nike. With a simple line up of offerings, from picnic blankets to iPhone covers and wool wraps for Macbooks, it's a perfect expression of Portland creativity. But of all the styles, I find the iWoolies the most appealing.
I've always been a sucker for Pendleton wool, in great colors, another Portland-based company (around since 1909). So it's a nice pairing to have iWoolies, laptop cases made of Pendleton wool, tagua nut, and vegetable tanned leather.
Aside from the appealing aesthetics, I also appreciate the sustainable bent to the company's design and production. All locally designed and produced, there's no shipping back and forth on big boats from China, or need to worry about small hands (i.e. child labor) being involved in the making of the goods (the website shows a typical production process versus that of The Good Flock). Using domestic wool and other earth-friendly materials (like tagua nut), everything's hand-cut and sewn in town.
It's even biodegradable.