Mudroom
Kick Starters
Four diagrams, three pundits, and one Scot preview the 2012 Timbers.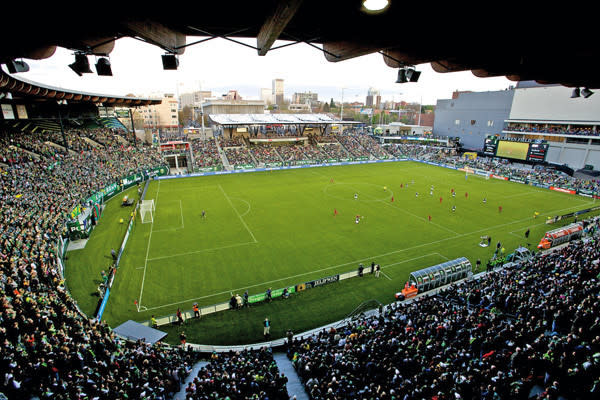 WHEN THE PORTLAND Timbers open their season against the Philadelphia Union on March 12, the roar from sold-out Jeld-Wen Field will echo the fan frenzy that greeted last year's Major League Soccer debut. The team itself, however, will sport a new look, reshaped by major signings and fresh Latin flair. And after that heady (but often heartbreaking) first season, expectations will be radically higher. Here's the outlook:
THE

COACH

SAYS

…
"I can't wait until the opening night. It's almost like you're checking boxes off on your life and your career. This is probably the proudest I've been in my career, and I've played with some big teams. The fans expect nothing less than us to win. I'm not scared of that. It would be great to get to the playoffs. Once you're in the playoffs, then you're no different from anyone else." —JOHN SPENCER, TIMBERS HEAD COACH
THE

PUNDITS

SAY

…
"Looking back on the first year—other than making the playoffs—I'm not sure it could have gone any better. But now comes the hard part. The honeymoon is over. There are 18 teams that want the same thing as you. You've created a monster, and that monster needs to be fed." —Alexi Lalas, US soccer legend, ESPN analyst
"From an atmosphere perspective, the bona fides are proven—national TV will show eight Timbers home games this year. They want to show a rocking stadium. But the playoffs are the obvious benchmark. If they don't attain that this year, it's a disappointment." —Grant Wahl, Sports Illustrated
"I don't think there'll be a sophomore slump. I'd be shocked if there was one. I think they learned about games on the road. And obviously they can take advantage of their homefield. If they can win every home game and then steal a couple wins on the road, then that's enough. It would take a lot to convince me that they won't make it to the playoffs." —Taylor Twellman, lead ESPN soccer analyst, former MLS star
| | |
| --- | --- |
| | |
| The Timbers moved up to the big league, packed Jeld-Wen, and showcased the raucous Timbers Army. The team scored some coups, too, like a 3–0 romp over eventual champions LA Galaxy, but flailed on the road and missed the playoffs. | A new format demands fewer punishing East Coast flights—but more games against strong western rivals like LA and the hated Seattle Sounders. "If they're as bad on the road this year," says local soccer writer Michael Orr, "they'll be in serious trouble." |
| | |
| --- | --- |
| | |
| The club shipped out slump-prone forward Kenny Cooper to make possible a new attack, with newly signed Scottish goal-scorer Kris Boyd likely up front. But an injury-prone defense and tough schedule leave plenty of reason for comforting Portland gloom | The Timbers may start three Colombians, with defender Hanyer "El Mosco (The Fly)" Mosquera joining attackers Jorge Perlaza and Diego Chara. Meanwhile, Orr calls young (but injured) Jose "El Trencito (The Little Train)" Valencia a "potential future superstar." |
For more from Timbers insiders, visit portlandmonthlymag.com/timbers.