Mudroom
Ring Leader
A local woman's olympic quest captures the greatness of the games.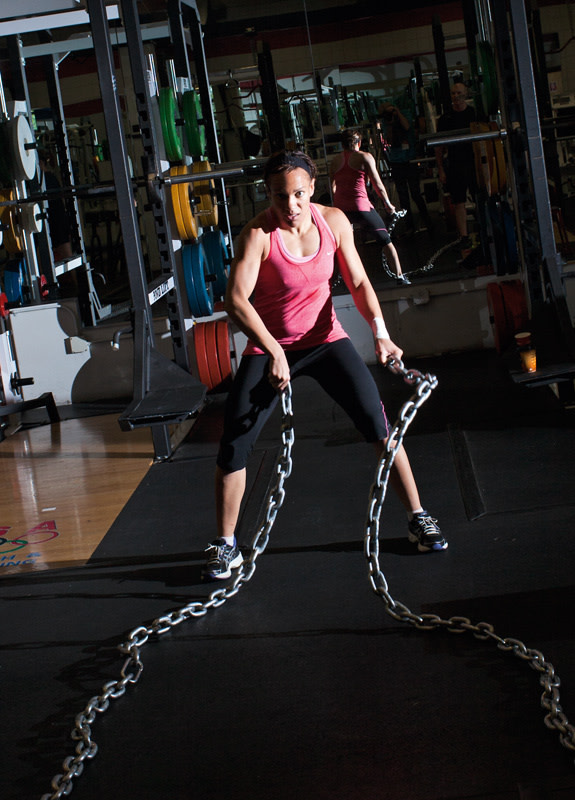 This month, Kelsey Campbell will step onto a mat in London to wrestle in the Olympics' 55-kilogram weight class. The 27-year-old will thus cap an unusual journey: Campbell started in the sport as a Milwaukie High School senior, after a friend bet her she couldn't last two weeks. "I lost a lot more than I won—a lot more," she recalls.
Campbell also joins a proud Portland Olympic tradition, one notable for its succession of strong female athletes. In London, University of Portland alum Megan Rapinoe will lead US soccer's midfield; Kara Goucher and Shalane Flanagan, part of Nike's elite training corps, will compete in distance races; Beaverton's Mariel Zagunis will chase her third straight fencing gold. 
Unlike most of those athletes, however, Campbell didn't emerge from a deep network of top-tier coaches, rich sponsors, and elite rivals. Instead, her solitary path shows how hard female athletes in "non-traditional" sports sometimes must fight.
"I was knocking on doors just to get to tournaments," Campbell says, from the Olympic Training Center in Colorado Springs. "Looking back, I'm like, holy smokes, how did I get here?" Now she stands on the cusp of a surprising Olympic debut in a discipline still relatively new. While male wrestlers battled in the first modern Games in 1896, women's wrestling didn't appear until 2004.
As Campbell discovered after she took that high school bet, the women's sport remains obscure in Oregon. Only 3.5 percent of the state's registered competitive wrestlers are women, compared to 6 percent in Washington. At Campbell's first practice, one coach assumed she was there to clean the mats.
"I had no idea that I was going to keep wrestling," she says of her high school days. Indeed, if it weren't for her own perseverance and some key support, she may not have. After high school, Campbell worked two jobs, barely paying bills, but for more than two years she regularly rode the bus to Peninsula Wrestling, a quietly legendary North Portland club. The 43-year-old neighborhood institution is perpetually cash-strapped. Nonetheless, many of Portland's best high school wrestlers gravitate to Peninsula, and four club alums have competed in the Olympics. Peninsula's coach, 68-year-old Roy Allen Pittman, is known for coupling sport with an inclusive, positive mission.
"If I can leave a legacy to kids, it's to stop looking for easy," Pittman said one recent night as some 40 kids aged 4 to 18 sweated on the mats. "Easy is not an option. Kids need examples, not critics."
Pittman didn't question Campbell's abilities or will; he waived his modest fees and lent her wrestling shoes. She lost every night, but "at least I got a little better every day," she says now. Training at Peninsula helped Campbell become Arizona State University's first and only female wrestler. Her collegiate career brought her two national titles, but she never received an athletic scholarship. (Her non-traditional path also meant only two years of college eligibility before she was back out on her own.) At the Olympic trials in April, she stunned the top seed.
Many of her potential Olympic opponents enjoy much more robust cultural and institutional support. Japan's Saori Yoshida, winner of two Olympic golds in Campbell's weight class and nine world titles, has wrestled since age 3 and has starred in several TV commercials. (Asian women have dominated Olympic wrestling, perhaps because the sport is perceived as just another martial art there.) As unlikely as Campbell's story is, it seems even more unlikely to be repeated. "Oregon still has a lot of old-school coaches," says Bobo Umemoto, Parkrose High's wrestling coach and head of the state wrestling association's women's division. "They may say they accept girls in wrestling, but they aren't going to do anything to promote it."
Oregon could be missing an opportunity. Many advocates say that opening new sports, like wrestling, to high-school girls can redress equity gaps that linger even after Title IX, the federal law mandating equal opportunity. (Last year, an anonymous 594-page civil rights complaint alleged that about 100 Oregon high schools failed to provide required opportunities to girls, but the feds declined to investigate.) "If you build it, they will come," says Neema Chaudhry, of the DC-based National Women's Law Center. "If a school isn't providing equal opportunity for girls, it must improve its programs."
Meanwhile, Portland loves the Olympics: the metro area consistently ranks among the Games' top 10 US television markets. Kelsey Campbell embodies the Games' original amateur spirit. "I'm not an overnight success—this is like nine years of 'overnight,'" she says. For all the money and muscle lavished on the Games, athletes like Kelsey Campbell are why we watch.