Mudroom
Made in Portland
Chinese shoe giant Li Ning looks to up its game in Sneaker Town USA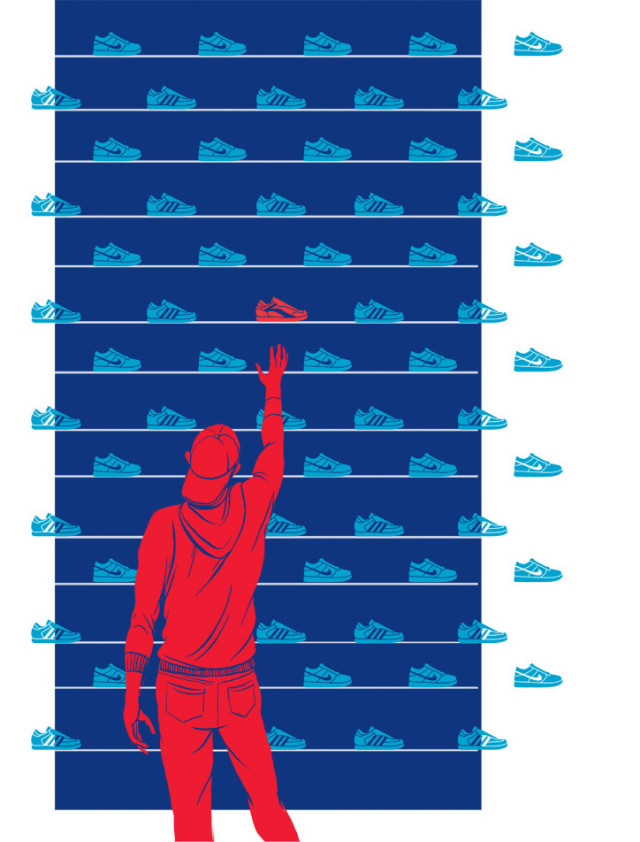 When the Russian pole vaulter Yelena Isinbaeva broke her own world record this past August, she did it while wearing spikes created by a Portland-based design team—but not from Nike or Adidas. Isinbaeva's sponsor is the Chinese sporting-goods behemoth Li Ning, which has been designing shoes in Portland since 2007 with almost no fanfare. That should change this month, when Li Ning opens a single retail showroom in the Pearl District. The new store, spread over two floors of the firm's NW Hoyt Street office, will be the first of the company's 6,800 retail spaces ever built outside of China.
The so-called "Nike of China" (complete with a swoosh-like logo) was founded in 1990 by former Olympic gymnast Li Ning; if you watched the opening ceremony of the 2008 Games, you probably saw the three-time gold medalist do a Peter Pan around the top of the Beijing stadium with the torch. Given that Nike and Adidas were two major sponsors of the Games, the stunt was "probably one of the greatest coups in all of sports marketing," says CNBC sports business reporter Darren Rovell. And it was one the company needed: Li Ning had been No. 1 in footwear and apparel sales in China until about 2002, when an increasingly open market allowed Nike and Adidas to take over. The Western companies, with their advertising savvy and superstar endorsers, knocked Li Ning down to the No. 3 spot. Now the company that was once the shoe brand in China must compete with Western companies on Western terms. To learn how, they've come to Portland.
"It makes sense to be where a lot of the footwear design talent is," says Li Ning's US general manager, Jay Li.
By that, Li doesn't just mean the usual high-tech cobblers. Li Ning has hired prominent local design firm Ziba to help reconcept the brand—from its shoe and apparel lines to its retail stores. Li Ning isn't the only company looking to develop a more global brand. In the current economic climate, China, with its tantalizingly untapped market, has become practically the only market. To wit: Nike saw a 22 percent increase in Chinese revenue in 2009, compared to just 2 percent growth in the United States. (Li Ning did reclaim the No. 2 spot from Adidas in 2009, but the swoosh still holds first place.)
As Li Ning's image gets an overhaul, its Portland research and design team, which numbers just over 20 and includes former staffers from Converse, Nike, and Adidas, is developing new products. They've already designed some 120 different shoe styles for the 2009 line. It's a new twist on a familiar model: exporting Portland innovation to be "Made in China," but by and for an actual Chinese company.
"The label 'Made in China' has now started to be associated with quality manufacturing," Li says, with just a bit of (understandable) defensiveness. "The next step is for China to have its own authentic brand. So it's only natural for a Chinese company to come over here and to upgrade our design in such a way that still remains authentic to our Chinese heritage."
To that end, the new showroom, which is smaller than Li Ning's retail outlets in China, will be a carefully curated affair. (Curiously, Ziba wasn't involved in the space's design.) It will include not only shoes and apparel endorsed by the likes of LA Clipper Baron Davis, but also badminton and table tennis gear.
"These are very Asian sports," Li says. "So I think it's quite authentic for a Chinese brand to represent them here." The company's endorsement deals with global superstars (Li Ning also sponsors Shaquille O'Neal, though not in the United States) help elevate the brand's cachet.
Ping-pong diplomacy aside, Li Ning is not yet interested in truly taking on the US market. For now, it's quite content to be a grommet on the proverbial sneaker.
"Our goal isn't to be here to compete with Nike," Li says. "They make the best footwear collections out there. We have much to learn from our big brothers."