The Mudroom
The China Connection
Tracking Portland's ties to the rising global power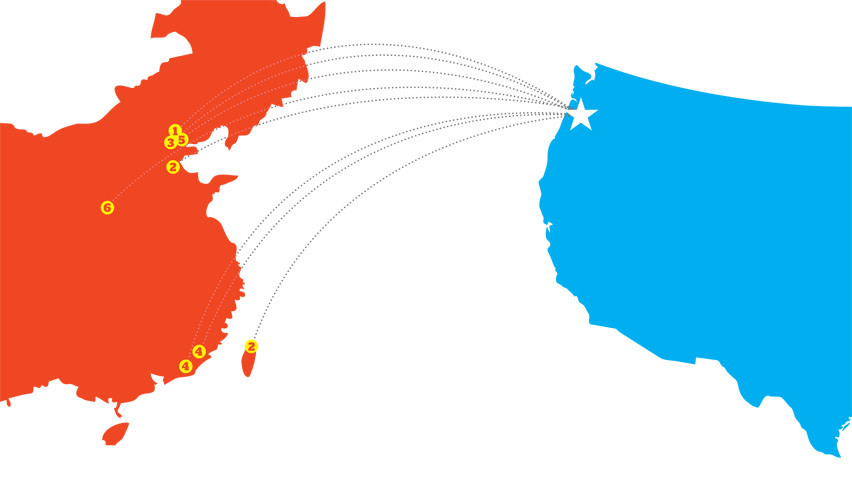 ONCE UPON A TIME, the road from Portland to China was paved with sneakers. (Nike designs headed one way; finished shoes came back.) But as the Chinese market has opened up, Stumptown's link to China has become ever more varied, marked by partnerships in everything from green building to chamber music. (And, yes, the sneaker highway is still bustling too, with Chinese shoe maker Li-Ning opening its first North American retail store in the Pearl District in January.) This fall, the University of Oregon will join about 50 universities nationwide, including Portland State, in establishing a Confucius Institute. The program, designed with support from Hanban—China's language office—seeks to foster better intercultural understanding through lectures, educational exchanges, and classes taught by visiting Chinese language professors. "It's important to understand China if you want to understand the direction the world is going," says Bryna Goodman, the institute's executive director. Plenty of Portland companies are ahead of the curve. Here's a glimpse at some recent collaborations with our trans-Pacific neighbor.
1

ZGF

Architects
The Portland architecture firm is helping to design two projects in Beijing: a new 947,000-square-foot heart institute at the Beijing Fu Wai Hospital of Cardiovascular Disease and a $56 million Leukemia Center for Beijing Children's Hospital.
2 Team Oregon
Team Oregon—an alliance between green-planning consultants Cogan Owens Cogan, Sera Architects, and Century West Engineering—recently helped Taiwan's largest city, Taipei, develop the Taipei 2050 EcoCity Vision, a long-range urban planning proposal. Cogan Owens Cogan is also a subcontractor for another similar project on the mainland, in Langfang.
3 Chinus Cultural Productions
Hong Mautz, Chinus's founder and owner, is known for bringing Chinese arts groups to cultural hubs like New York City and Los Angeles. But in February, the Portland resident and former staffer at China's Ministry of Culture got the Beijing Dance Academy to come to Portland to perform The Butterfly Lovers, China's version of Romeo and Juliet, at the Newmark Theatre.
4 American Pacific International Capital
In December, Portland's iconic Koin Center on SW Columbia Street was bought by American Pacific International Capital, a Portland-based investment firm whose most recent projects include developing a 30-floor hotel in Shantou, China, and launching a palm-oil production company in Chaozhou.
5 Third Angle New Music Ensemble
Ye Xiaogang, a professor at Beijing's Central Conservatory of Music, was so impressed with Third Angle's performance during the Portland Art Museum's China Design Now exhibit that he invited the Portland-based contemporary chamber music group to perform at the 2010 Beijing Modern Music Festival this May. (They accepted.)
6 Beam Development
If you dig Olympic Provisions' mouth-watering salami, take a moment to toast one of its landlords. The Chinese investment firm JnR Group went halfsies with Portland's Beam Development to make the Olympic Mills Commerce Center—where the deli is located—a reality.