Mudroom
Tie Breaker
Guv Watch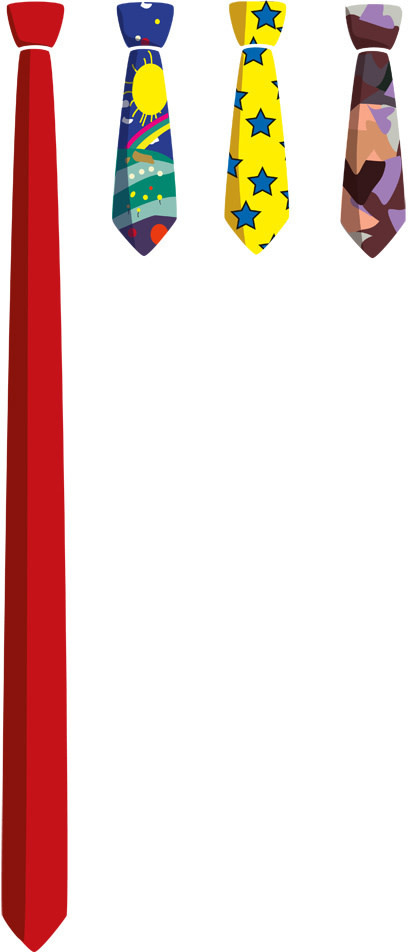 MORE THAN in their party affiliations or policy stances, or even their celebrated differences in height, the two men who would govern Oregon are sartorial opposites: John Kitzhaber is all Marlboro Man mustache, Sundance Kid shag, stonewashed jeans, boots, and big belt buckle, while clean-cut and -shaven Chris Dudley is off-the-rack big-and-tall. But both buck even their own fashion conventions with one carefully chosen accessory: the necktie. Dudley, the Republican nominee, shuns Reagan red for shades of burgundy on cravats that are not only custom-cut long, but worn well below the standard belt-buckle length. Democrat Kitzhaber dons—well, there's no other way to put it—goofy ties. Neither candidate responded to queries for his "tie philosophy." So we went to four local fashion pundits for color commentary.
Jake Hanover, buyer, Mario's (marios.com)
Both these guys are wearing ties as an expression. Kitzhaber is bridging the gap between white- and blue-collar: wearing a tie, but not taking himself too seriously. Dudley's burgundy is colorful without being loud; conservative without being boring.
Adam Arnold, designer (adam-arnold.com)
Kitzhaber is a stylish soul, no doubt; it is difficult to say whether Dudley's lack of variety lies in the almost total lack of options for a guy his height. But I don't think these are the kinds of things a politician should worry about too much. I would rather have someone who wears the same practical thing every day and gets shit done.
Nicolle Camarata, fashion blogger, radio/TV commentator (nicolleshops.com)
Chris Dudley has certainly cast his vote for the power red tie, but why are they soooo long? (He could give a lesser man tie envy.) You could go as Kitzhaber for Halloween. Dudley dresses like one of those pretty boys you date, but Kitz looks like a guy you would marry for sure.
Mike Fredrickson, owner, Michael Allen's Clothier (michaelallensstyle.com)
Dudley plays it safe. But the tailor in me must point out, his ties hang too long. Kitzhaber has gone far left: so whimsical and zany that it's hard to take him seriously. We'd like to invite both candidates in for a complimentary, custom tie that reflects who they really want to be.