I'm special
Boutique Spotlight: Gilt
A jewelry store to fulfill your Gilt-y pleasures.
When reaching the crucial point of accessorizing during my daily routine, there is a question I am forced to ask myself. What will my jewelry be today? New? Vintage? Mr. T inspired chains? At this point I usually collapse under my own pressure and pile it all on mixing styles. For people like me, with a love of all jewelry old and new, the place to shop is Gilt. Located on bustling NW 23rd Gilt showcases a wide array of new, vintage and repurposed jewelry. Owner Paula Bixel has done a stand up job of mixing together many decades of accessories under one roof. I have seen everything from a vintage engagement ring to funky felted earrings adorn outgoing customers. For the lovers of all things old the downstairs portion has sparkly necklaces, antique brooches and rings a plenty to run your eyes over. The upstairs section of the store has lots of local love with display cases dedicated to different Portland artists offering up some of their newest creations. Just a handful of some of the things you can your accessory lusting hands on here:
Hand felted earrings, rings, hair pins, and bracelets
Beautifully reworked / genuine vintage jewelry
Assorted textiles made into earrings, including leather
Aged copper necklaces
Doorknob bracelets
Coral necklace
Affordable to high end

It's worth the trip in itself as the holidays draw near, but since it happens to be in the heart of Nob Hill shopping area you might as well make a day of it. Oh, and don't forget your wallet, you're going to need it.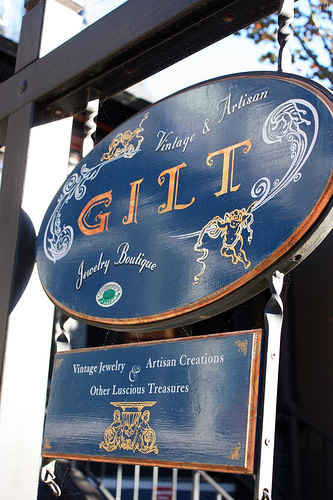 Gilt:
720 NW 23rd Ave
Portland, Or
Hours:
Tues – Sat 11:30am – 6pm
Sunday 12pm – 5pm
Closed Mondays
GiltJewelry.com
View slideshow to see all kinds of Gilt goodies.