Boutique Spotlight
Golden Rule
Do unto others as this shop does unto you.
I was out in the miserable rain scouting some of my favorite indie boutiques for an upcoming fashion shoot when I wandered into the Golden Rule on East Burnside. And then I nearly tripped over a giant pile of clothes stacked high on a blanket tossed on the ground. Turns out the whole mound is the vintage fashion version of bobbing for apples with everything on the blanket given the basement bargain price tag of $5. I tore through the lot past a freaky faux fur, one stray boot and a seriously sassy sequined tunic that might have been stolen from the Golden Girls set to find myself a vintage navy Jantzen cardigan. Victory!
After I pulled my head out of the pile of inexpensive wonders I actually stopped to look around. I saw whale sketches, photographs and jewelry amongst the scarves hanging from the ceiling and small rows of vintage clothing at reasonable prices. I ran through a rack of spangles and sparkles and eyed a handful of bags with a bias to a tan briefcase style purse before remembering tis the season to buy for others. Just as I was complimenting the visual merchandising of the store, consignment specialist Melissa DeMerit dropped a serious organizational bomb on me. The store completely changes its inventory, floor lay out and décor each month to match the art displayed on the walls. I can't even bring myself to organize my closet more than twice a decade; I am utterly impressed the retail equivalent is happening every lunar cycle. This is the perfect shop for those of us who love vintage and have short attention spans. What is that….90% of the city?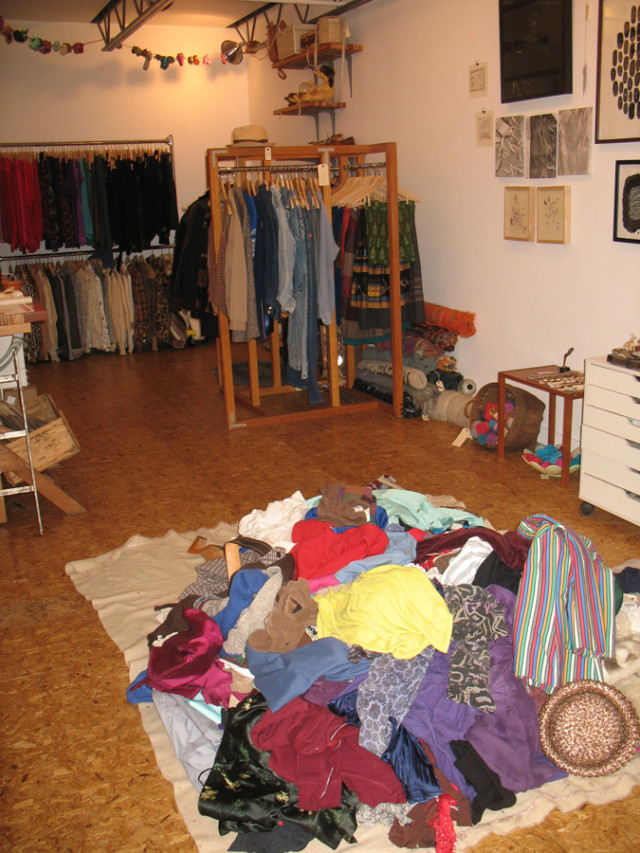 The $5 pile will be on the floor until Wednesday at 9pm for anyone wanting to take a turn at the hunting game. Once First Friday roles around each month the inventory you see in the store disappears, if you see something you want you're best off grabbing it then and there. I am already regretting I didn't grab the Golden Girls sweater; those crazy broads are my role models for anything to do with shoulder pads.

Golden Rule
811 E Burnside Suite 122
Portland, Or
(on the back side of the building)
Holiday Hours: 12-9pm Sun-Sat
GoldenRulePortland.com