Fitness is Fashion
Barre3 30 Day Challenge
I've got 30 days to get ready for spring fashion and fitness guru Sadie Lincoln is coming to my rescue.
In the magazine world we work ahead several months. A few weeks ago I pitched a swimwear piece for June and it (eden) dawned on me that swimsuit season is here for all of us soon. After a brief panicked hyperventilating session I calmly climbed down from atop my kitchen cupboards and swore this would be the year to finally get into a suit without "The Fear." I'm an average sized person and I don't necessarily want to lose weight, I just don't like to show off the turkey waddle that seems to have attached itself to my upper arm (or thigh).
I even work out regularly, but that flab seems content to stay and nothing has changed that – not boxing, not Zumba, not the elliptical, and not wishing it away. I realized I really need to up the ante, make this a commitment and see if it's possible to kick off this summer right. I decided to submit myself to a 30 days fitness challenge to see what the average busy girl can accomplish in the ways of jiggle fighting when you really put your mind to it.
Now before you say, "I would never have time to do that," allow me to give you a brief insight into my schedule. I write daily for this blog, plus the monthly magazine articles, attend fashion shows and events multiple nights each week, teach 9 credits in the fashion department at The Art Institute, am currently planning a fashion show for 1000 people in 6 weeks and am working on my Master's degree. If I can find an hour every day to do this for 30 days, anyone can. But if I was going to subject myself to this torture, I wanted to do a workout that would really work it out. That's why I landed on Barre3.
Barre3 is expanding faster than Charlie Sheen's head. Three years ago it was one studio that creator and teacher, Sadie Lincoln, founded. Now it is 13 locations, a best selling DVD and Madonna's new fitness obsession. The Material Girl has even flown Lincoln out to New York for private Barre3 sessions in Mikhail Baryshnikov's studio. Not too shabby for a native Oregonian. The program is a combination of ballet barre, yoga and Pilates that was designed to be low impact and emphasize long, lean muscles. Lincoln's background has 20 years of group exercise instruction to boast. She even had a full ride graduate scholarship to the College of William & Mary where she developed and ran their fitness program while earning her Master's degree. She is married to her co-founder, Chris Lincoln, and the couple has two children, which has definitely guided Barre3's structure. Playrooms and low cost childcare are offered at the locations where cherubic chubby babies often hang out while the mom's take a few moments for their own health.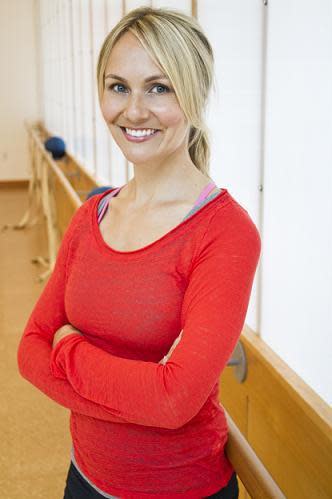 I'm on day 5 of my challenge and I'm proud to say I haven't missed a day yet. That isn't to say I'm head of the class either. During my first Barre3 Foundations class, my legs shook so hard during the inner thigh exercise I was hoping I wasn't having a seizure. I felt okay besides that, so I just kept going. Later, my teacher, Viva told me they call those the "Barre3 Earthquakes" and it's supposedly a good thing. The first 3 classes were absolutely the hardest. I wasn't quite sure how to lift my tailbone like they said and those aforementioned earthquakes were kind of distracting.
Somewhere into the fourth class it just began to click. The motions made more sense; I knew when I needed to take a little break and when to keep going. This is not to say it's gotten easier, by any means. It just makes more sense. I'm so tired from working these completely foreign muscles inside me I've added a mid-afternoon cup of coffee to just survive. Friday night I was supposed to attend a fashion event and instead fell asleep fully clothed on my couch at 7:30pm with all the lights on. Whoops.
We're only a sixth of the way in, so there's not a ton to report but I have noticed a few things already. One is I feel stronger, despite being so sore I wasn't able to carry a bag of coffee home today. I especially notice it in my posture. This job leads to Quasimodo hunching and my back wants to be taller and longer with all this stretching. And I thought adding this level of time commitment would make me feel more stressed. It's usually hard for me to make it to the gym twice a week, but I feel pretty relaxed. Forcing myself to take the time seems to be paying off for my sanity, which is a nice bonus. I'll be updating weekly on my progress and any tips for the new Barre3 user, but in the meantime if you see me, push me to keep going. I really want to banish that jiggle for good.
Barre3.com for locations, info and class schedules