sensory overload
Fashion Related Fun
There are a lot of must adds for your calendar. Get cracking.
There are so many awesome things going on around town these days, I need to figure out this cloning device I bought online so I can make it to all of them. Here is a round up of things you need to be seen at.
Physical Element/Amy Downs Trunk Show:
Hat designer, Amy Downs, returns to Physical Element with iconic spring confections drawing inspiration from the upcoming Kentucky Derby. She'll bring her full arsenal of hats, both wild and wearable for your viewing and buying pleasure. You can meet the artist, a popular New York City hat-maker who maintained a shop on the Lower East side for over fourteen years, in person. Amy and her hats have been featured in The New Yorker, Paper Magazine, and the New York Times. Also on tap for the evening: Mint Juleps and other libations, southern-inspired appetizers, plus event-only special offers and discounts on all new Spring Merchandise
Amy Downs Trunk Show
Thursday, April 28th 6pm
1124 NW Lovejoy St.
Pdx, or
PhysicalElement.com
Modified Style
Modified Style Portland is approaching its third year and it's not your typical fashion show, says organizers Janessa Philemon-Kerp, Andrea Fretwell and Laura Boley. In addition to incorporating sustainability into every aspect of the event, the creators are using the fashion as a platform to raise awareness among their peers about local charities. Ms. Philemon-Kerp says their main goal is "to show people in our age group—mid twenties to mid thirties—how easy it is to donate to charities. And we want people to enjoy themselves while doing it."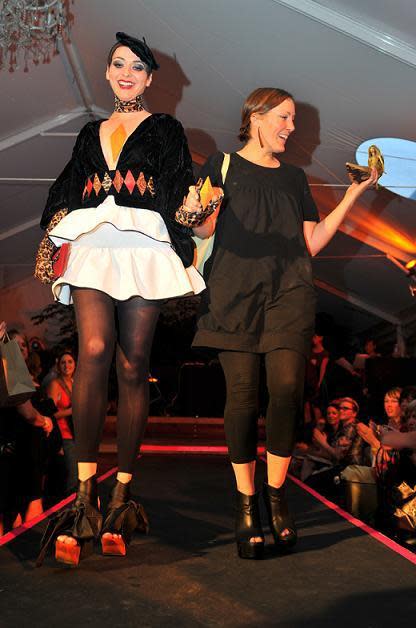 In addition to raising money and awareness for Sisters Of The Road, Out to Pasture Farm Sanctuary, and Children's Healing Arts Project (CHAP) the organizers aim to inspire confidence in men and women who have never designed before. "Learning how to sew three years ago really inspired me," Ms. Fretwell says. She's passionate about "designers unlocking their potential. So many people don't know how much they're capable of until they accomplish something new."
The designers are handed their bag of fabric in advance and forced to work within their given means. The results can range from jaw dropping to chic and wearable. The organizers have turned the whole night into a swinging party with doors open at 6pm then7pm Fun(d)raiser Fashion Show begins, at 8:30 the winner is announced – Silent Auction begins, Entertainment by DJ Prashant and then a Bollywood Dance After Party. Jai Ho!
Modified Style
Sunday, May 1
Disjecta
8371 N Interstate
Portland, OR
Click for $15 tickets
Adidas Do Over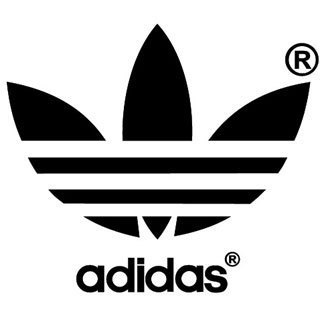 The Do Over is an event I missed last year and all I heard is about how much fun I wasn't there for. Well, I'm not going to let it pass me by this time. The Adidas sponsored event is a "free daytime Sunday jammy complete with booze & bbq all day long." If you want to see people rocking their activewear and be on the lookout for the special mystery guests you must RSVP to get in the door.
Adidas Do Over
Sunday, May 1st 2-10pm
Produce Row Cafe
204 Southeast Oak Street
Portland, OR
RSVP for The Do Over
Open Season
I cannot talk about Open Season enough. The Portland Mercury's fashion show has called in the big guns this time and tickets are selling fast. As if the line up of local awesomeness wasn't enough (Reif, Coco Cárdenas, Isaac Hers, Bridge & Burn, Dawn Sharp, Ms. Wood, RUKI, Joshua Buck, Midge, Sara Bergman, Boet, Heather Treadway), they have a trifecta of Project Runway winners with Leanne Marshall, Seth Aaron and Gretchen Jones in town to show collections.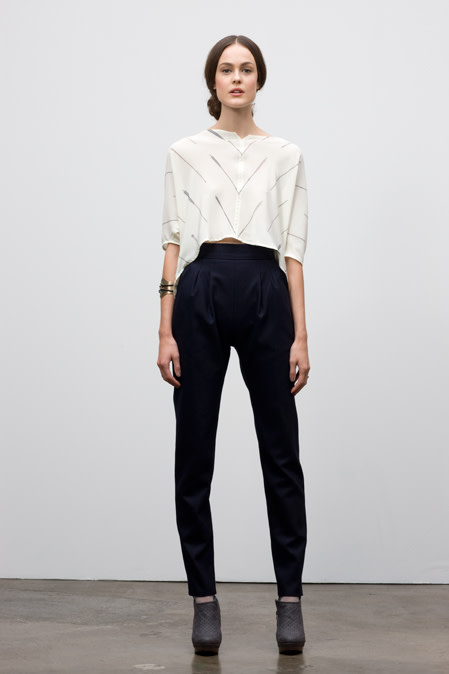 And! The opening act of the show is a vitaminwater sponsored competition with a handful of local designers creating garments inspired by vitaminwater. The outfits will be critiqued and a winner appointed victoriously by a style council. And who is on the style council you might ask? Well, it is Seth Aaron and Leanne Marshall from PR fame, Marjorie Skinner (managing/fashion editor of the Mercury), Kevin Lennox (former fashion editor of Glamour magazine) and me (aka Eden Dawn of this here blog and magazine). Tickets for this show will sell out, so act fast.
OPEN SEASON the Mercury's 7th annual spring fashion show
Bossanova Ballroom, 722 E Burnside
Friday, May 6
Doors at 7:30pm, Show at 8:30pm.
Tickets $15 advance, $18 at door
Click for tickets