Desireables
Powerhouse Pepper Mills
A guide to great grinders for high and low kitchen budgets and those who can never have too many pepper mills.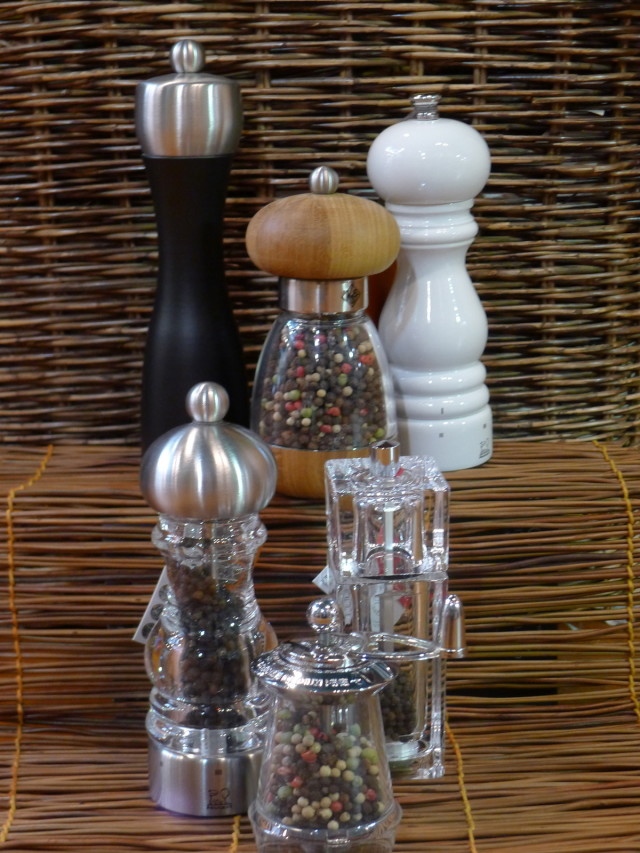 I confess: I have a pepper rmill fetish. Every time I go into a cookware shop, I make a beeline to the grinders. I pick each one up, try a few sample grinds, and dream about which one I can't live without. The collection at Sur la Table recently had some tempting beauties with prices to fit anyone's budget.
A Cole & Mason pepper mill was well priced at $12.00. Every family had this plexiglass rectangle on their kitchen table in Hollywood, circa 1978. It's made in China, but what do you expect for that price? For less than double the price, a Calfornia company, William Bounds, claims that their mills crush rather than grind. They make a smaller clear mill with a handle grinder for an easy $22. Adjust the grind by rotating the top. Their Mushroom mill, at $35, has a funky sixties look, with a good grip and hand feel, made from managed forest teak.
Anyone who covets pepper mills knows that Peugeot is the Cadillac of grinders. They come in a wide variety of styles and prices, with a lifetime guarantee on the grinding mechanism. That's somewhat irrelevant — these things last forever. I'm still using the first one I bought when I moved away to college, many years back. And, these work horses are still made in France. I also own the Fidji, an elegant dark wood mill with a stainless top, for $55. Peugeot's tall plexi Stenlis never seems to go out of fashion, for $80. But my recent love is the classic seven inch Peugeot mill lacquered in glossy white. A row of black lines on the bottom let you adjust the grind easily. The modern country French style would look good in any kitchen, especially mine. I was out a mere $45 and happy for years to come. There are many mills out there and I'm always on the hunt for more.