Out and About
New Store! Woonwinkel Opens.
Impeccably curated, with an eye to modern design and carefully crafted goods, Woonwinkel is an excellent new store for Portland design buffs.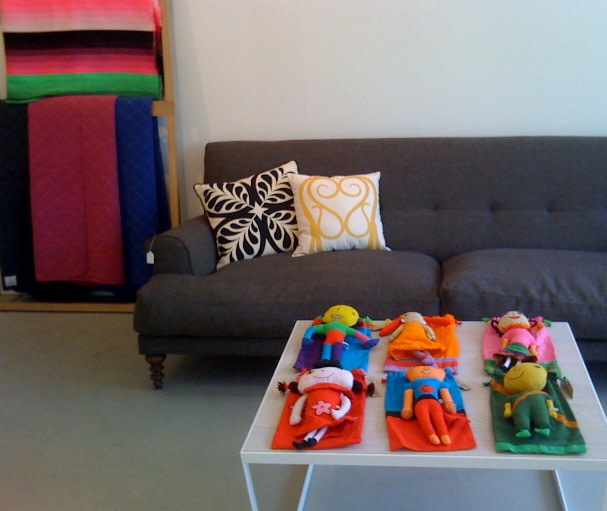 Portland's well-known for cutting-edge cuisine, but design? Sometimes the local scene can be a little stodgy. These days, however, there are a number of stores (Canoe, Alder & Co., Relish,) showing some of the latest and greatest finds from all over the world, while happily continuing an emphasis on local craft. A new store, called Woonwinkel, just opened that looks set to be another forerunner in helping make Portland a good shopping stop for design aficionados.
Open as of last Thursday, Woonwinkel is conveniently located to downtown at 935 SW Washington. It's an easy stop here after trawling through the offerings at Canoe and Alder & Co, with a quick break for sustenance at the food carts across the street.
Though the store is still putting the finishing touches on the space, as befits a new place, the design inside is an excellent mix of quirky modern with a healthy dose of both warmth and humor. The name means "home store" in Dutch (Kristen Van Buskirk, one of the owners along with Erica Essink, spent a couple of years working in Amsterdam), and the products draw heavily from the Dutch sense of handmade crafts and clean lines—evenly dotted amongst offerings from local designers.
"We're trying to bring things to Portland that aren't here yet," says Essink. There are gorgeous dishes infused with earthen colors by Atelier NL made of the clay from different farms in the Netherlands, delicate ceramic plates festooned in flowers on which pictures of acrobats and gymnasts are wittily printed by Dutch designer Esther Derkx, slick tables by Jens Fager, and iconic vases by Hella Jongerius.
There is also some excellent local talent represented here, from Vontundra's wood furnishings to a doll house cabinet by Studio Gorm to glass creations by Esque. Felt pillows in fuschia, orange, and charcoal are jaunty next to Iacoli & MacAllister spare pendant lights, and vibrant Studio Makelike dish towels. There's even a series of amazing dolls by Alexa Lixfield, designed by kids and a basket of fun key fobs made out of discarded flip flop material.
Stop in, look around, admire the goods. Even if you don't buy, Woonwinkel is an easy way to access great design here in Portland.