Desirables
Pantone Postcards
Ever feel like dropping friends a line that doesn't involve something wireless or electronic? This pack of pleasing postcards by color experts Pantone offers an easy, chic way to say hello via old-fashioned paper.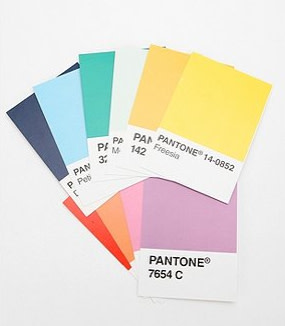 There's something so satisfying about putting pen to paper, crafting a breezy note that reminds friends you're thinking about them instead of just saying "how r u" over text message. And there's something even better about opening your mailbox and seeing an actual piece of mail inside, instead of bills and flyers and catalogues. For that purpose, I think this box of Pantone postcards= from Urban Outfitters for $19.95 would be perfect.
Pantone is the global color expert, with 1,114 solid colors used in everything from paints to books to magazines. Designers of all types draw from their palettes, and they really do have almost any hue you could ever wish for. This box of 100 postcards riffs on the color theme, with a wide assortment of tones.
It would be fun to pick a color to match the recipient: Send a bright yellow one to your cheery young niece, a mellow blue to a brother, or a lilac to your mother. All the postcards have their corresponding Pantone color numbers printed on the front—in case your mom likes her postcard so much, she wants to paint her living room that color.
One other option? There are some truly amazing paint chip art projects out there, where people have created murals and paintings out of paint chips. Why not take this to the next logical level and use Pantone postcards to create a colorful mural on a wall?
(Then, if you find yourself truly smitten with Pantone, there are also some nice mugs in their primary palette.)