$10 and Under
Is the Gift the Box, or What's Inside?
In the case of birch boxes from Roost, the answer is: probably both.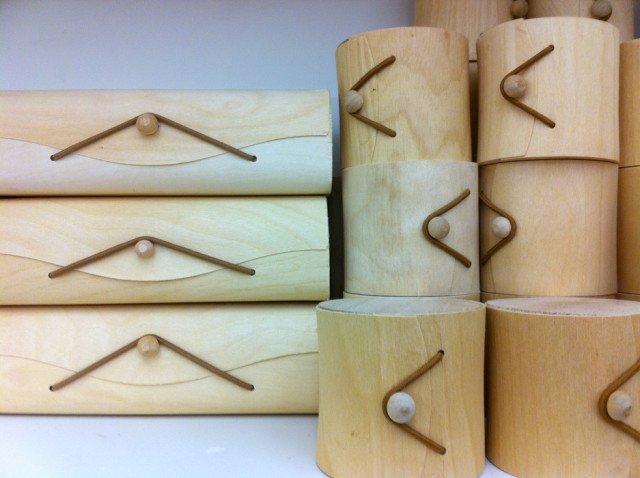 These gift boxes hardly need a gift inside; they can qualify as the gift itself. But why not go overboard and "wrap" your next birthday present or houseguest gift with a birch veneer box from Roost? The boxes – actually, many are cylinders – come in several sizes, many of them nesting and under $10.
They are made of lightweight unfinished birch veneer. The rounded edges of the birch and the leather-or-elastic with wood-button closures give them a simple elegance and slightly anthropomorphic face.
That face is a happy face. Not as in bright-yellow smiley-face, but as in good to have on your shelves in multiples. They might hide your messy little rubber bands and paper clips, or protect the pennies that make up the humble beginnings of your new baby's college fund. Either way, whatever's inside looks better in one of these Roost boxes or cylinders.
There is a cylinder sized especially to hold a bottle of wine (which might be part of the college fund, too, if it's a good enough vintage). But the tall cylinders would also be perfect for a stack of homemade tollhouse cookies to butter up the fourth grade teacher. In this season when we start to head indoors and get invited to our friends' homes, a bunch of these boxes could go far as tokens of thanks, holding who knows what.
Roost boxes are carried locally at Powell's (including a good selection at the cooking and garden store on Hawthorne) and at Flora downtown, among other shops. The wine bottle-sized cylinders are also available at Humble Abode, at a discounted $13.50 each for an order of two or more.