DIY
Tiffin Boxes Are a Snap for Bringing Lunch to Class
The snapping, stacking metal boxes add a touch of class to brown-bagging it – with no spills on the way or trash to toss.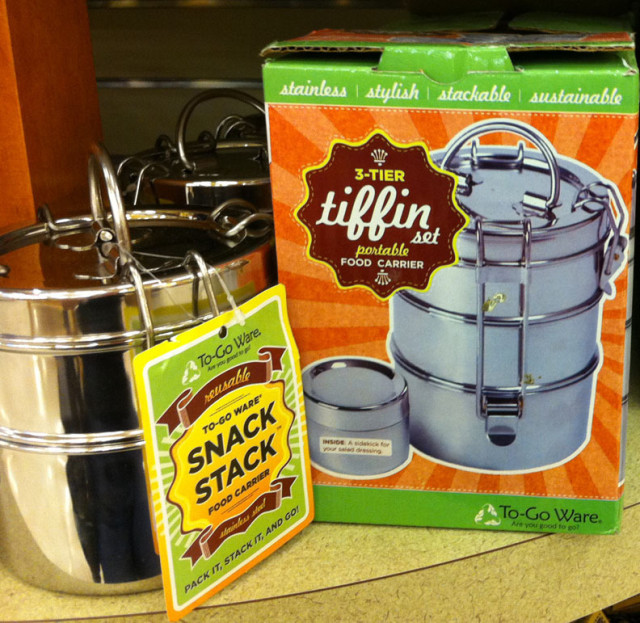 No matter how old I get, back to school season always feels like a time for new beginnings; the falling leaves mean turning over some new leaves in life. For instance: eat healthier by carting a lunch from home rather than buying it at a cart or deli every day.
But lunches are such a pain! Some people seem to thrive without them, or subsist on a little yogurt or an apple in the middle of the workday. But others of us get a grumbling tummy and even grumblier disposition if we don't eat a good mid-day meal. Plus, They say (yes, "They" – those smart people who do scientific studies) that it's healthier to eat a substantial meal at lunch rather than at dinner.
So, how to stay inspired to adopt this new healthy habit, rather than just toss it on the leaf pile? Try switching out the usual buy-lunch-at-a-cart routine with carting your lunch to work in a Tiffin box. What the heck is that? Tiffany? Puffin? No, Tiffin is an Anglo-Indian slang word for afternoon snack, and its evidently how many folks in Mumbai even today transport home-cooked meals to work.
A Tiffin "lunchbox" is a stainless steel, stacking set of food-holders. They're a step ahead of Tupperware, and way past the Peanuts lunchboxes of the olden days or even Dora the Explorer of today. A Tiffin set is made up of two or three tiers that snap tightly together into a cylinder with a handle on top. The tiers keep different food items separate until you want to mix them together for your meal. No more spaghetti in your salad or soup on your sandwich.
In Mumbai, the Tiffin boxes don't just get tossed into your pack as you head out of the house for your morning commute. Instead, the box is brought to you, mid-day. Its an elaborate yet low-tech system that started in the late 19th century with Indian and British office workers commuting by train to the city and not wanting to take the time to go home for lunch.
A dabbawala (literally, a person who carries a box) would instead be hired (for a pittance) to go to the office worker's home, pick up his hot lunch, then via bike and train bring the lunch (and many others on his route) to the city at just the right time for the mid-day break. It's a fascinating system wherein even today some 5,000 people (most of them men, many illiterate) deliver about 200,000 Tiffin-boxed lunches to hungry office workers who then eat their home-cooked hot meals at their desks. Whole train cars are given over to Tiffin-deliveries.
Here in Portland, Mirador and New Seasons both stock various versions of the Tiffin boxes, priced in the $25 range. The carrying of the box, however, is strictly DIY. And while other green-friendly lunch-porting systems are out there, none have yet inspired me as much as the Tiffin. Then again, the season is young.