Portland Fashion Week
PFW: Local Loves
Night 3 of PFW is for the locals.
In today's fashion mood check, I'm happy to deliver thumbs up from last night's performance from the neighborhood kids. And thank goodness for that because this ol' editor needed a little shot in the arm. The crowds turned out, the mood was vibrant and the audience was just plain enjoying the show. You know, all the things you want and love about a fashion show.
Kicking off the night was Amai Unmei and her line of dresses. There were some solid pieces for sure, but two in particular raised my blood pressure a notch. The duo tone shades of gray draped jersey and a swinging flawless red halter were super fabulous. Think I might need to pay a visit to the shop come springtime.
Stephanie D. Couture transitioned from her primarily bridal and eveningwear line into mainly jersey ready-to-wear pieces. I'm sure she'll sell plenty of the easy dresses, but I have to admit, I missed her fancy eveningwear pieces. She always had a way with flowing silky satin's and I loved that.
Ms. Wood made a dramatic turn from her black and gray heavy fall collection after an inspirational trip to Hawaii and sent out a resort appealing spring collection. With bright turquoise and red hues the easy to wear/care pieces were great backdrops for the amazing accessories (also created by the designer and her husband). The carved wooden shoes came out one after another with a particular fringed one catching my heart and as always my love of the Ms. Wood bag continued.
Collier showed some cute east coast college prep inspired suits and pieces resulting in a series of male models looking completely adorable. My favorite look was a particularly "Geek-Chic" moment with glasses, gray plaid blazer, sweater vest and a tie.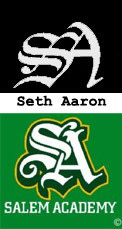 Finally, Seth Aaron showed his collection with a series of screaming pop-art faces emblazoned on fabrics while models wore matching wigs and creepy masks. It was the kind of thing where either you got it or you didn't. And I was in the latter category. Seth Aaron's other fabric consisting of his new S.A. logo looks so much like my high school's (Salem Academy) logo, I cannot get into it. I realize that's my own deal, but it's still true. However, Aaron still is an amazing tailor. The purple and black color blocked shift dress was beautiful and tasteful and the shape and fit of a princess seamed coatdress was amazing. Maybe one day the collection will come out in solid color options for those of us who feel uncomfortable wearing so much school pride.
(Tonight is the end of the haul with Project Runway designers Bryce Black, Jay Nicholas Sario and Michael Costello.)
Amai Unmai
Stephanie D. Couture
Ms. Wood
Collier
Seth Aaron*