Desirables
Board Games for the Not Bored
Angry Birds and Words With Friends compete with the old favorites, like Monopoly – and now, Portland-opoly.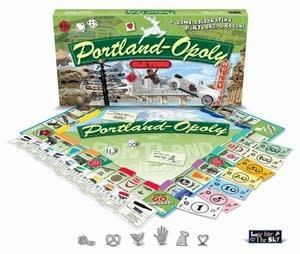 It's been somehow reassuring this holiday season to discover that not all the classic old board games have been completely converted to digital zeroes and ones. In fact, flat old boxes filled with cards, trinkets and a folded cardboard game board are putting up a fight against all those Angry Birds, Words With Friends and other digital darlings.
Candyland, Chutes and Ladders, and Monopoly still amuse children (and sometimes adults) on the living room floor while the holiday meal is settling in the stomach. But Monopoly no longer has a monopoly on the property buying and trading board game. Portland-opoly is in the race, too.
Actually, so are Omaha-opoly, Cleveland-opoly, and Brooklyn-opoly. A company called Late for the Sky has a veritable almanac of American cities they've -opolized, from Albuquerque to Wichita. Sure, San Francisco and New York are in there too, but there's no attempt to cash in on cool-city-chic. Austin is not on the board game map, weird as it may be.
And the Portland shown in Portland-opoly is not necessarily the Portlandia that king and queen Fred Armisen and Carrie Brownstein are capturing on their IFC television show. There are no birds on it. But there is Waterfront Park, and Old Town Chinatown, and the International Rose Test Garden, OMSI (called the Museum of Science and Industry) and the Zoo.
The company started in 1984 when a Miami University of Ohio student decided to transform Monopoly into the Miami U. campus. They expanded their offerings to include dozens of colleges. Again, no big-name-snobbery is involved: you'll find the University of Arkansas Hogs, but not Harvard; Purdue, but not Princeton.
There are also versions of the game featuring animals, special topics (from cocktails to the bible) and even particular dog breeds (Want to play Chihuahua-opoly? Got it.).
Portland-opoly is available at Powell's and online, including at the Late for the Sky website.