Desirables
Keeping Time – and Resolutions – for 2012
Artful calendars ease the passage of time.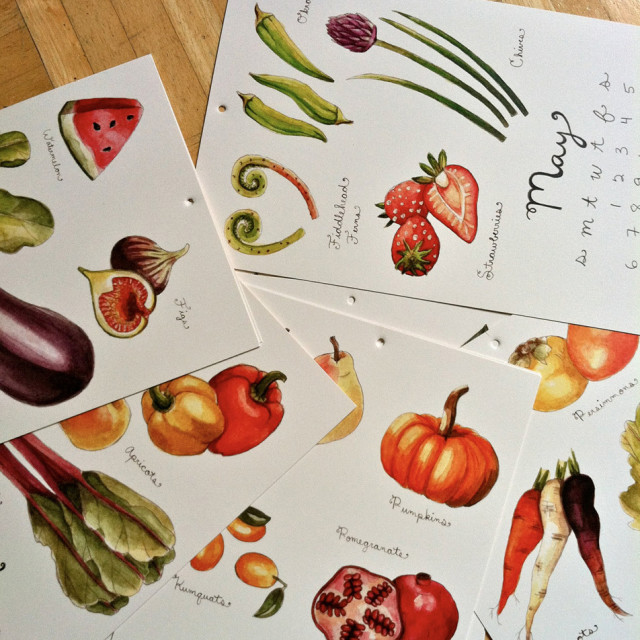 The year comes along with a slew of hopes, resolutions…and the need for a new calendar. While there is always the lovely Microsoft Outlook calendar to be found on the computer screen, that default option somehow fails to inspire great plans for the New Year. But several regional artists have created some appealing, non-digital calendars that do inspire.
First up of course is the traditional Nikki McClure calendar; many of us would feel naked without it hanging in our kitchens. (Buy it online at BuyOlympia or at many local outlets including New Seasons or Powell's). This time, McClure's wholesome northwest classic could be accompanied by Little Canoe's Fruits and Vegetables wall calendar.
Brooke Weeber paints the bounty you might find at the farmer's market each month; her watercolor portraits capture the inherent beauty in the color and form of nature's little sculptures, a.k.a. fruits and vegetables. Four illustrations per page, one page per month, 6" x 10", $25, and suitable for framing.
Another option, on a less earthy, more celestial note, is the Northern Hemisphere Constellations wall calendar"691525/2012-constellations-of-the-northern. A collaboration between Little Bright Studio and Satsuma Press":http://www.satsumapress.com/, the calendar is a 13" x 19" screenprint, starry silver ink on textured midnight blue paper. $5 from each $25 calendar sale goes towards funding the Planetary Society, a non-profit founded in 1980 by Carl Sagan and others to inspire people to explore space.
And lastly, a lovely letterpress option, again involving Satsuma, which is based in Corvallis. They make a sweet little desk calendar featuring delicate minimal designs on creamy white 100% cotton paper. It's 5" x 8" and available online ($40).
Any of these calendars made by local, small scale businesses would be a fine addition to the desks and walls of 2012.