Desirables
Civic-minded Tote Bags
A grad student in Raleigh, NC is the source of Nolli Plan-inspired tote bags, tee-shirts and prints.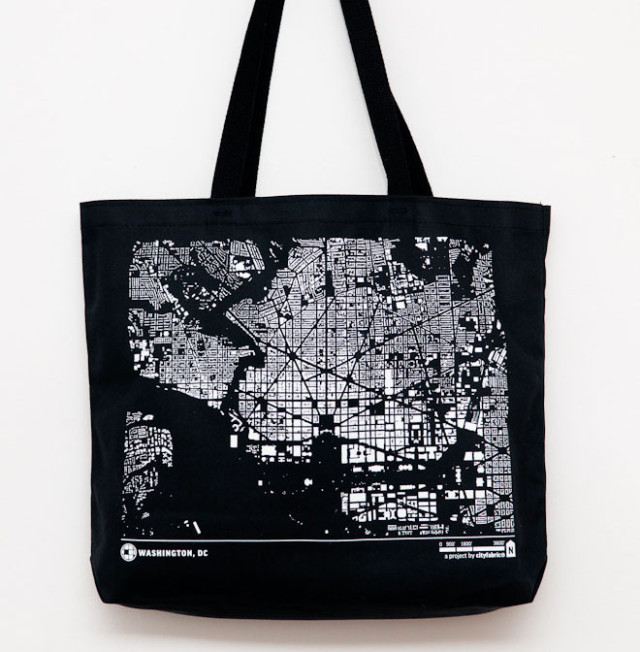 Tote bags are the new tee-shirts: the small-"d" democratic sign of allegiance to one cause or another. We use tote bags more than ever now that paper and plastic are both no-no's at the grocery store. Yes, this is the era of the reusable, lightweight tote. These from CityFabric should rise to the top.
The small start-up company from Raleigh, NC creates tote bags that feature maps of American cities. Unfortunately, the line of cities inexplicably excludes Portland, thus far. Seattle and San Francisco are as close as they get. But Matt Tomasulo's company is so new, I've no doubt he'll add Portland to the roster of Austin, Boston, Washington, Atlanta and others soon enough.
He founded the company only a year or so ago, funded by Kickstarter. The maps are Nolli Plan-style – that is, inspired by the figure-ground, solid-void type map of Rome drawn in 1748 by Giambattista Nolli. Nolli plan maps are a stark reminder that a city consists of public and private space: the private spaces are solid black, while the white space is the public, open space that belongs to us all, whether it is a courtyard, a park, a sidewalk or a street.
Thus the 1748 Nolli plan of Rome shows the narrow medieval streets and wider, diagonal connecting streets of the Renaissance and Baroque eras. Contrast that to a Nolli plan map of a typical modern American city: the wide open spaces are probably super highways – public space, but belonging to us only if we're driving a car.
Tomasulo's CityFabric company has been successful enough already, in selling its totes, tees and prints, that it recently funded its first civic project, a guerilla wayfinding program in Raleigh, NC. Read a great article about it on Atlantic Cities here.