Style Spotlight
Fashionable Paintings
Local artist Sam Roloff uses fashion to inspire his canvas.
Sam Roloff isn't your typical player in Portland's fashion scene. He's not a designer, a shop owner or even a clotheshorse, but his dreamy fashion paintings just plopped him onto the style radar all the same.
Roloff (whose name might sound familiar with his brother Matt Roloff's show Little People, Big World) was raised in the Bay area and studied fine art at the San Francisco Art Institute in the early 90s. After that, his life reads a little like a Kerouac novel. He lived in the "seedy" part of Haight Street while watching the rise of the Mission School art movement before taking off to hitchhike through Mexico and Guatemala, seeking out adventures. In 1994, Roloff moved to Prague in the Czech Republic, where he and a partner ran a small art gallery. During that time he focused on a series entitled "Women in Prague", which would be the beginning seed for his Portland painting career.
A year later, he returned to the US where he married and began a family before eventually making his way to Portland in 2002. A recent divorce triggered the artistic energy in Roloff and the result was textured oil images of local fashionistas (for a "Women of Portland" series), paintings of sky-high heels and images of pretty clothing. The pieces began popping up in places like Isaac Hers boutique and local fashion show producer Jillian Rabe's public space slowly establishing a following.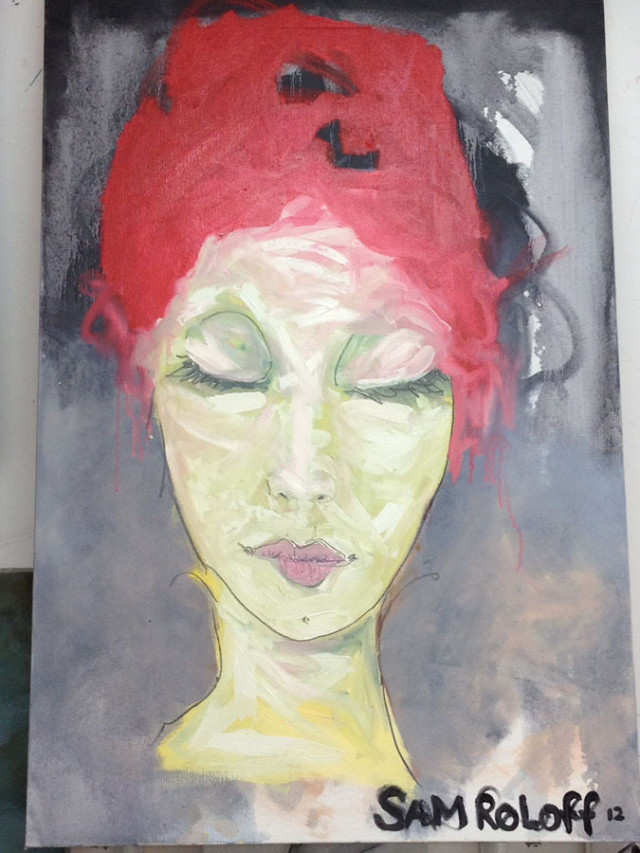 Roloff believes his expressionistic paintings are different than his contemporaries because he paints holding his brush vertically instead of horizontally leaving a different brush stroke than usual. Regardless of the reason the recent success of his fashion related prints means the prices of his wish-I-had-one-in-my-living-room oil paintings can run between $1,500-$2,000 with commissioned pieces reaching up to the $6,000 mark.
While some might let the increased success go to their head, Roloff has been busy planning ways to give back to the community. Growing up with health problems frequently left him in the hospital and he knows the boredom and isolation that comes along with that territory. His solution is an in-hospital art program he hopes to get off the ground including instruction and displaying the finished pieces on site for patients to leave their mark.
Up next for the unlikely fashion hit? In between tasks for getting the hospital art program rolling, Roloff's currently masterminding the next incarnation of the "Women of Portland" series. This time around, people can submit names of (stylish) ladies to be painting subjects and the public can vote on the final 12. Who wants to be Mona Lisa-ed?
To see more paintings view the slide show and SamRoloff.com