Mudroom
Brazil Bonanza
For many Portland businesses, a vital new frontier dances to a samba beat.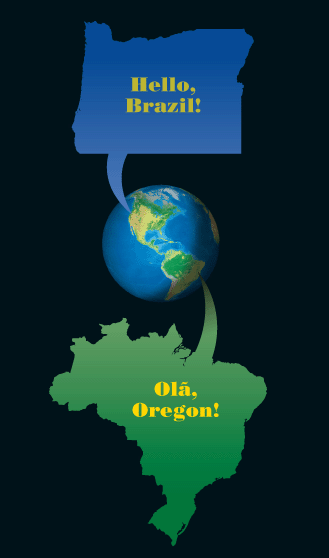 THE CORNER OF SE 21ST Avenue and Powell Boulevard doesn't feel very tropical on a cold Saturday, but inside a storefront martial arts studio Nate Monosoff and more than a dozen of his capoeira students have created a private summer of their own. Latin rhythms throb from the stereo. The students—a mix of fit men and women—bob, weave, handspring, and high-kick to the music. Multicolored braided rope cords signify rank in this Brazilian martial art, a fusion of dance and combat devised by African slaves.
Capoeira fills many of Monosoff's evenings and weekends ("The community is strong—I travel to other cities, just show up, and by that night I'll have a place to stay"), but a lot of his workdays have gone Brazilian, too. As a consultant for the Oregon-founded, global engineering firm CH2M Hill, he works in that country on a variety of industrial development projects.
Monosoff isn't the only one discovering Brazil's heady cultural/commercial mix, as imminent World Cup and Olympics fiestas turn Oregon's (and the world's) eyes south to a country 200 million people strong, where the GDP is growing by 5 to 7 percent a year. Recent stats suggest the Portland metro area already does more than $500 million in Brazilian business each year.
"Brazil's demand for the products and services that Portland does best is skyrocketing," says Noah Siegel, international affairs director for Mayor Sam Adams. Siegel cites strategic opportunities from green development and energy (Brazil already gets 80 percent of its power from renewables) to transportation (CH2M Hill works on shipping and airport projects) to oil, gas, and mining.
The country has already lured some of Portland's most prominent businesses. Ad agency Wieden & Kennedy opened its eighth worldwide office in São Paulo at the end of 2010. The firm now employs 45 people there, creating campaigns for the likes of Ciroc Vodka and the Brazilian edition of Marie Claire. "Brazil was an easy decision," says Dave Luhr, W&K's veteran global chief operating officer. "It's the world's fifth largest country, with at least one city, São Paulo, in the world's top 10. There's a vibrant creative culture and a growing middle class. If you want to operate in South America, you go."
W&K's most famous client, Nike, needs little encouragement. Brazil will host soccer's World Cup in 2014 and the 2016 Summer Olympics, and Nike began sponsoring the country's legendary national soccer team over a decade ago. According to Arturo Nuñez, Nike's marketing director for emerging markets, the country is a key part of the Beaverton-based sportswear giant's global strategy.
"While much of the rest of the world struggles to recover, Brazil is booming," Nuñez says. "It's the largest country in our emerging-markets category, and that's Nike's fastest-growing portfolio." He adds that a young, sports-crazed population—two out of five Brazilians are 21 years old or under—makes an ideal consumer base for both imports and in-country manufacturing.
Besides fashionable enterprises like W&K and Nike, Portland companies with a brawnier edge are also finding their way to Brazil. The 99-year-old heavy-equipment company ESCO, headquartered in Northwest, employs more than 450 people in the country, primarily serving its lucrative mining trade. (ESCO, headed for a stock IPO and in a mandatory "quiet period," can offer few specifics.) Other local heavy-industry companies active there include the chainsaw maker Blount and various equipment manufacturers with sales offices in Brazil.
More may be on the way. The mayor traveled to Brazil last year for the global meeting of the "C40" alliance of cities dedicated to curbing climate change. Portland is designating its own dedicated trade representative in the country, the city's first such solo venture (without the state's trade office) anywhere. Meanwhile, the Portland Business Alliance plans a late-year mission to help local businesses get to know a country where language, cultural, and tariff barriers can be as daunting as full-tilt growth is tempting.
"Brazil operates on a slower pace," says Sean Browning, a sales manager for the local Internet monitoring firm WebTrends. Browning travels to Brazil often. "They value relationships and a longer-term approach, over the younger, faster, quarterly-return-focused thinking that's more common in the US."
According to Monosoff, the capoeira instructor/consultant, Brazil demands a certain degree of flexibility and resourcefulness. "Brazilians are very adept at making the best of everything, and stretching every resource," he says. "It's about embracing change and difficulty."
How very Portland. Brazil will probably never displace Japan, Canada, or China in Portland's global-trade cosmos. But if this vibrant country continues on its meteoric path—and takes Oregon businesses along for the ride—at least a few Portlanders will be doing handsprings. Even if they've never heard of capoeira.