Mudroom
Gear Shift
Kickstarter fires up a new kind of Portland industry.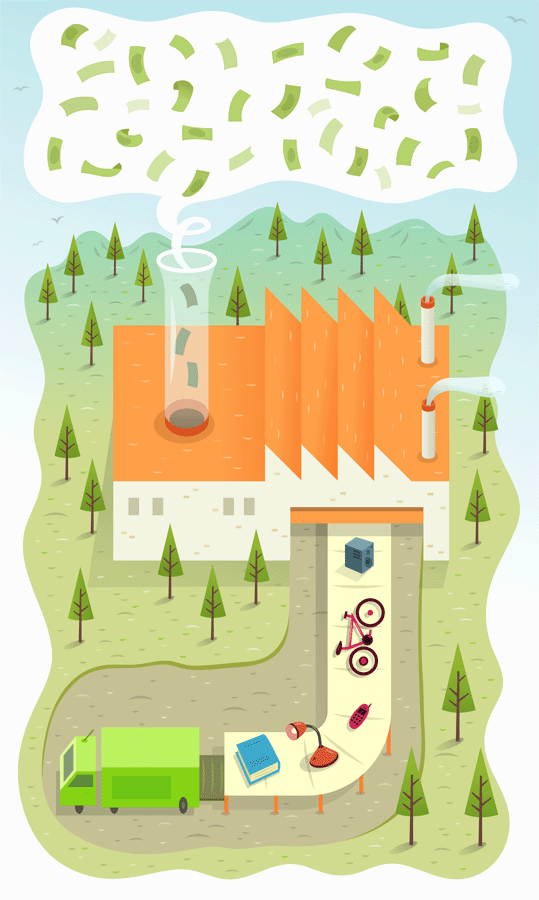 LAST YEAR CASEY HOPKINS, a freelance product designer, created a charging dock for his iPhone. He made only one, hand-machining it from solid aluminum so that the stand wouldn't slide around when he picked up his phone. Soon his friends wanted their own. So in January, he cut a two-minute promotional video, threw it on the "crowdfunding" website Kickstarter, and set a seemingly lofty goal of raising $70,000 to make more.
Within a day, Kickstarter users had pledged $165,000. Within two months, Hopkins's one-off had lured over $1.4 million. "I was freaking out about having to manufacture these things," he says.
The Portlander thus got a dizzying glimpse of Kickstarter's power. The New York-based site, launched three years ago to fund indie art projects, has rallied an eye-catching $180 million so far. Contributors can give as little as $1 to projects they find worthy, in return for NPR-style incentives. No surprise: Kickstarter and Portland were made for one another. The Rose City has raked in more than $5 million from more than 75,000 contributors, and ranks among the site's top five cities in terms of total projects funded, alongside New York and LA.
Meanwhile, Portland is also leading the way as Kickstarter goes through a subtle but significant transformation. No longer just a bazaar of prospective demo tapes, self-published novels, and experimental films, the site now funnels cash to far more commercial projects. Hopkins's "Elevation Dock" briefly held the record for the most money raised by any single project. Other would-be manufacturers now see the site as a springboard from concept to mass-produced reality. As one local entrepreneur puts it: "Kickstarter is creating whole companies." Call it capitalism, no traditional capitalists required.
Besides Hopkins's dock, Portland's big Kickstarter scores include a documentary on genetic engineering, a self-published book about "punk" mathematics, and an Alice in Wonderland–themed card game. Mayor Sam Adams's office "curates" a page within the site, highlighting ideas that range from exciting to bizarre to too whimsical (tricycle-delivered coffee?).
But Kickstarter's larger potential lies in the gap between Mercy Corps Northwest–style microloans, designed to fund ventures like food carts or bike shops, and traditional venture capital—especially for people who want to make things.
"If you want to start a restaurant or cool bar in Portland, that's easy," says Jason Martin, a local industrial designer. "No one wants to fund actual physical products. They're risky. Conventional investors want something with little overhead and no inventory."
Last summer, Martin and three of his partners at Carbon Audio pooled their design talent—and meager savings—to create the Zooka, a sleek wireless speaker that attaches to the top of any laptop or iPad. Without an investor, mass production was impossible. On a whim, they decided in February to post the Zooka on Kickstarter. In six weeks, the device drew over $70,000. More significantly, the firm was courted by 10 eager manufacturers and at least one investor who offered to buy the company outright.
And then came the serious payoff: through that Kickstarter exposure, Carbon Audio landed a multimillion dollar investor to bring the Zooka to the market—and coveted shelf space in Apple's retail stores.
"Kickstarter is bridge funding until you get big-boy funding," says Martin, who is now coordinating with Chinese manufacturers to have the Zooka ready by August. "The exposure is hard to put a price on. You prove that you can generate sales."
"It's difficult to attract outside investors unless you can make a connection with them," says Leslie Siegle at Portland State's Business Outreach Program. "Kickstarter campaigns are built on existing connections and relationships."
Hopkins took a crash course in manufacturing in order to get 19,000 iPhone docks to his "investors" by May. More and more Portland Kickstarters face similar challenges. A stoneware desk lamp by designer Shannon Guirl grossed over $50,000 late last year, launching her locally made brand Caravan Pacific. This spring, designer Scott Hussa raised almost $300,000—then had to figure out how to produce thousands of RFID-blocking travel wallets. Today, Kickstarter percolates with other would-be Portland projects (and products): foldable bike fenders, stainless steel iPhone cases, heavy-duty camera mounts….
While Clint Eastwood growls televised orders to restore America's industrial prowess, the reality is that physical production costs money. For Portland's emerging "maker" class, Kickstarter seems the perfect communal fundraising souk.
"It's not an investment," says Justin Kazmark, the site's communications director. "It's not charity. It's not a gift. It's patronage."