Gift Giving
Mommy's Little Knucklehead
Why not give Mom something useful, like a steel bottle opener?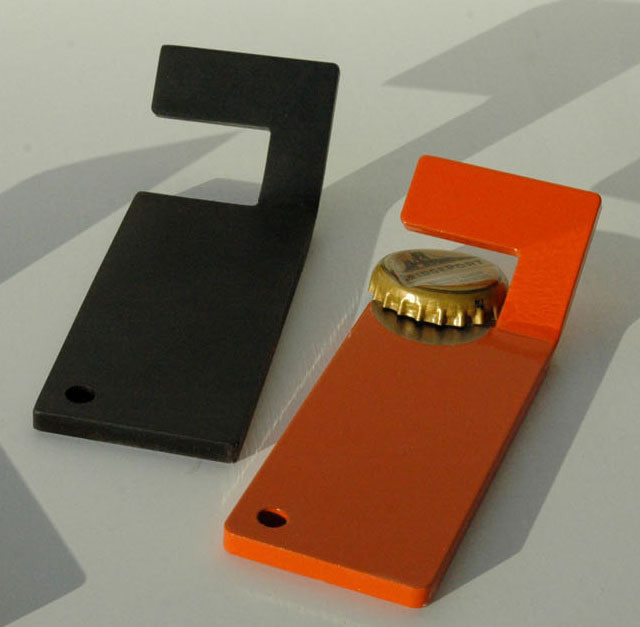 What do you give Mumsie for Mother's Day, besides the usual breakfast in bed, brunch out on the town, or a bouquet of flowers? Branch out and try something functional and durable, like a 10-gauge steel bottle opener. That's what you gave her last year? But there's a new color out, just in time for Mother's Day.
The Knucklehead line of bottle openers is made by local design house Quartertwenty, and Tilde, the always interesting shop in Sellwood, has them on sale May 10-13 (along with most everything else on the premises), 20% off for Mother's Day. The Knucklehead will wow mom (Dad may want one too, which will get you ready for Father's Day in June). It's made from steel left over when Quartertwenty makes its GiddyUp Stool. The design is as neat as the concept: a piece of steel becomes the handsome stool, but the parts cut out in its fabrication get cut into shelf brackets, and the scrap from that becomes the bottle opener.
The company describes it as "One piece of steel. Three products. Zero waste." It's an elegant concept and just as elegant in execution. Blue, orange, white, black and now chartreuse green are the colors available (as well as the natural steel grey). For the hip modernist mom, it's a sure winner. Put it in a gift basket with a six of her favorite microbrew, and she'll probably forgive you for any and all adolescent transgressions – or at least she'll be able to crack open a cold one for the two of you to toast to her motherhood.
Tilde
7919 SE 13th Avenue
Portland, OR
Mon – Saturday 10am-6pm
Sunday 12pm-5pm
503.234.9600