Desirables
Boys' Fort Makes a Home in Kenton
For self-proclaimed "men who never grow up," a place to call home.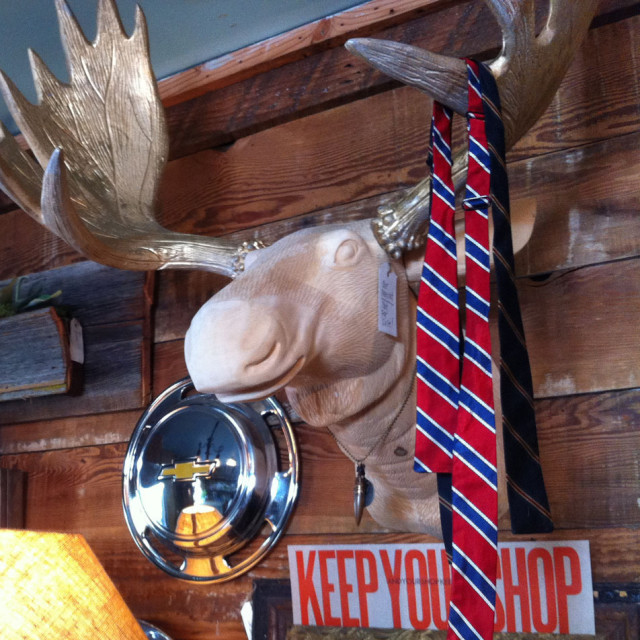 The boys have set up a fort, have they? So what else is new? Well, this time the fort is not a typical blankets-and-boxes contraption that elementary schoolers might construct. Though the "boys" who've created this Boys' Fort are, they admit, "men who never grew up," they've built a very grown-up home for their new "men's home and lifestyle store."
Boys' Fort opened late last year as a holiday season pop-up shop downtown. In true temporary fashion, the pop-up soon closed up. But now they've popped up again in a permanent brick and mortar retail spot in the Kenton neighborhood of North Portland.
The new location seems tailor-made for their quirky, beautifully curated selection of housewares, artwork, custom furniture and odds and ends; after all, they're just down the block from that massive man in plaid, the concrete statue of Paul Bunyan. But what Jake France and R. Rolfe of Boys' Fort bring to the new shop is like what a highly refined, clever and sophisticated younger brother of Paul might like.
Plaid iPhone cases, "Dad" aprons, wooden boxes adorned with old metal car labels (Ford Fairlane…), man-scented fragrances and rugged wall art made of salvaged wooden yardsticks and tools… the items at Boy's Fort are not to be found elsewhere. They're all unusual, and yet as displayed in the shop, they go together like, well, plaid and denim.

Just wandering through the shop brings a smile, which might be what the proprietors are trying to do. They say they're "reinterpreting for modern living" the old things we remember from childhood. Indeed. And it's good memories they're bringing back, though not false or fake ones.
The shop space is shared with those purveyors of the real, Salvage Works (read about them here) and of the ethereal, the floral art of Solabee (we'll pay a longer visit to them soon). All three businesses provide goods and services in the retail space, where their creations live together like an honestly happy family.
Boy's Fort (with Solabee and Salvage Works)
2030 North Willis Street
Portland, Oregon 97217
Monday-Saturday 9-6
Sunday 11-4