Desirables
Owls That Keep On Ticking
You don't have to sift through dusty vintage store shelves to get the old timey owl theme tickin' in the kitchen.
When it comes to classic kitsch of late '60s/early'70s home décor, owls are where it's at. Maybe the appeal has something to do with their big wide eyes, or their rotund body shapes. Owls were to the '60s and '70s what the Portlandia-style bird theme is today. As in, they were everywhere.
So it's about time that owls are back, especially as wise and whimsical timekeepers for the kitchen. Those who frequent vintage shops know that there's always been a place on the retro shelves for owl-shaped cookie jars, clocks, and mugs, usually in some bright orange or yellow shade (to go nicely with the avocado greens and earthy browns that were also popular at the time).
Recently, however, those perky, wide-eyed owls have been infiltrating the mainstream. You can find them on the shelves of Target in the form of clocks, bookends and lamps. West Elm has owl faced measuring cups; DwellStudio has an adorable owl pillow and a set of child's nursery items (bibs to bedding) in a sweet owl-in-trees printed fabric.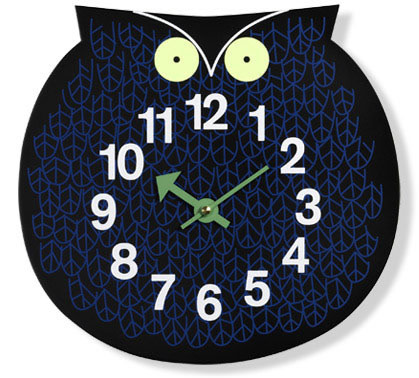 But to my eye, the best owls spotted recently have been the kitchen timers made by Kikkerland. They're just so cute, they'll make you want to get into the kitchen and cook. (Or at least that's how they make me feel, though I'll admit that in my kitchen I also tend to listen to old school FM on a battery-powered transistor radio shaped like a penguin.)
Kikkerland's owl timers come in two versions, Owl and Owlet (West Elm in the Pearl District is carrying the Owlet this season; that's where it caught my eye). The owlet is only $6, stands 4" tall and comes in red, blue or yellow. The Owl stands proudly in the pleasingly plump shape of 3" x 3" x 3" ($24) and comes in even brighter shades of the same three colors.
And don't think owl-time is only for the cooking timer; George Nelson designed an owl clock back in 1965 that would look great in the right kitchen (or children's room). Less well known than his iconic Ball or Sunburst clocks, this one is owl shaped and printed with a pattern of peace signs. It was 1965. Gotta love it. The clock even has a name: Omar.